The Crossborder Career Workshop "PhD, what comes next?" 2021: highlights
This new online edition of the crossborder workshop was held from 8th to 10th December 2021 and brought together participants from Luxembourg, Germany, and France. Like the previous year, this year's seminar was aimed at PhD candidates at the end of their doctoral program and young researchers on a temporary contract from all fields who wish to pursue their career in the non-academic sector.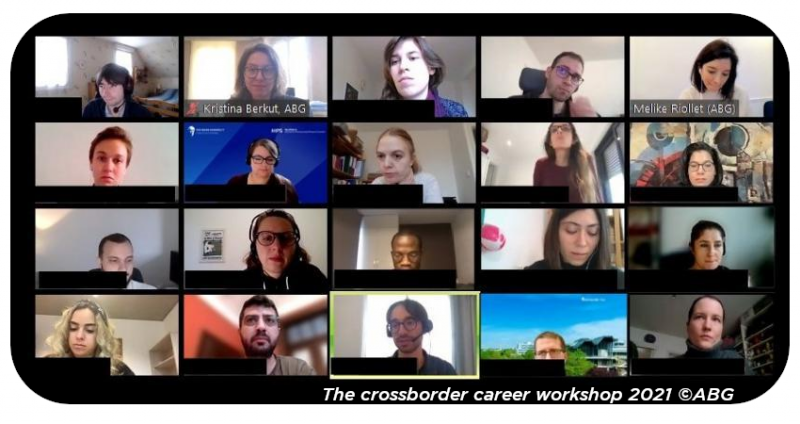 ---
---
Partners
Since 2015, ABG and its partners from Luxembourg and Germany have been jointly organizing a crossborder seminar for postdoctoral researchers in Luxembourg.
The 3-day Crossborder workshop dedicated to PhD candidates is exceptionally taking place online for the last two years in view of the current health context.
This year, we had two brand new partners: the Universities of Saarland and Trier.
Why a crossborder event?
Here is some feedback from the participants:
"The cross-border aspect of this workshop has an added value for me in comparison to national ones".
"Getting to know other PhD students from different countries and fields of study was quite fascinating and gave me the opportunity to learn and take on new ideas."
"
I learned about different recruitment laws/rights/conditions in France, Germany and Luxembourg.
"
In 2015, the French Postdoctoriales was adapted to a cross-border format, including participants from France, Germany and Luxembourg. This international dimension reflects some of the common questions of the early researchers (eg. the increasing scarcity of permanent posts in academia) that are similar in most European countries.
The seminar brought together 25 participants from different fields, such as immunology, health, physics, linguistics, mathematics, IT, economics, environmental sciences, history, chemistry, management, cultural studies, geography…
The participants already had international mobility experience as PhD candidates, this is why this workshop attributed some time to designing their next international move suiting their desires and expectations and helping them to adapt to current recruitment norms in the countries to which they are planning to go. By bringing together PhD candidates from three different countries and several nationalities, an intercultural environment was created; this gave them the opportunity to learn from each other's differences, to share different perspectives and insight on living and working abroad.
Programme
The 3-day program aimed to prepare the participants for carefully choosing their career (in particular, outside of academia) and promoting the benefits of their PhD training and highly valued skills obtained through this experience. The participants were invited to reflect on their career plan by connecting their past work experience with their personal and professional desires and values.
With a focus on France, Luxembourg and Germany, the workshop gave an overview of the international job market and opportunities for PhDs in different sectors. It presented the recruitment processes and job applications outside academia, as well as tools to explore the job market, identify companies and job ads. Moreover, It focused on efficient communication and introduced methods and tips to help the participants present their background, research topic, experience, skills, as well as their future goals.
The participants applied directly the concepts presented in various role-playing and individual and group exercises integrated into the program to launch a soul-searching and self-assessment process on what they really want to do next and to follow these ideas up afterwards.
The participants also had the opportunity to exchange ideas with international PhDs working outside academia in different sectors and organizations (industry, consulting, public international institutions…) that recruit PhD holders. The panel speakers provided valuable insights about the skills and qualities which recruiters expect and provided key advice to help candidates develop their network and communicate effectively outside academia.
ABG warmly thanks the speakers who took the time to share their experience as PhDs having successfully switched into careers outside academia:
Alejandra Medina, PhD in finance, OECD
Giulia Malaguarnera, PhD in neuropharmacology, OpenAIRE AMKE
Guillaume Fournier, PhD in virology, LNS – Laboratoire national de santé
Philippe Perchoc, PhD in political science, European Parliament
testimonials
More thoughts and feedbacks about this seminar
"It was an excellent workshop. I very much enjoyed the mix of the presentations with the group and individual exercises and interacting with the guest speakers. The workshop was incredibly useful to me, especially at this stage of my career where I am unsure about what comes next. It was filled with practical advice on how to pursue a career beyond academia."
"The ice-breaking session was designed in a very creative way and this initiated engagement and connections amongst participants. I was quite satisfied with the online form of the workshop!"
"Networking is important. Most pieces of valuable information come from other people than books or the internet."
"The PhD has indeed given me certain skills. I just needed to learn how to identify them and then market them, thanks to the exercises that we did during the workshop."
"The importance of how to present my research outside academia using proper language."
"Careers after a PhD are more diverse that I thought. The PhD is like a "couteau suisse" for our future and not a barrier like I was starting to think".
CONTACT
If you are you interested in organizing a similar workshop for PhD candidates or postdocs, contact us for more information:
Melike Riollet, PhD – Head of International Department
Kristina Berkut, PhD – Training and International Cooperation Manager
More information about ABG?
Get ABG's monthly newsletters including news, job offers, grants & fellowships and a selection of relevant events…
They trusted us