Cooperation programme with the United States
Clarisse Faria-Fortecoëf
The 2014-2015 brochure of the Fulbright Commission in France gathering various

grants

, to study, teach or to do research in the United States, is now available.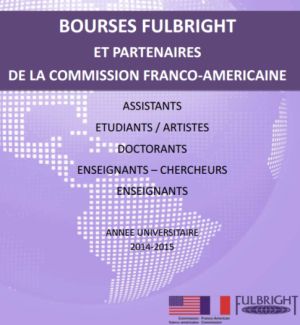 The Fulbright Commission in France provides each year,

grants to about one hundred and fifty French and American students and researchers

through its Fulbright program and its partners' programs.

On its new website, "Programmes Fulbright et partenaires" (in French) you will find all the useful information on this cooperation, as well as on the various programs such as those intended for

PhD students

and

researchers

.

You can also download there, the

2014-2015 brochure

(in French).

Application deadline (PhD students, researchers): February 1, 2014.

Furthermore, interactive virtual workshops (webinars) give you the opportunity to ask questions to interlocutors such as the advisors of the EducationUSA Center - the only specialized center in France on higher education in the United States - part of the EducationUSA network.
The webinar on grant programs for doctoral students and researchers, will be held on

November 28, 2013

.
More information about ABG?
Get ABG's monthly newsletters including news, job offers, grants & fellowships and a selection of relevant events…
They trusted us