Forces moléculaires et séparation liquide-liquide impliquées dans la compartimentation cellulaire induite par les virus
| | | |
| --- | --- | --- |
| ABG-105678 | Thesis topic | |
| 2022-05-17 | | Other public funding |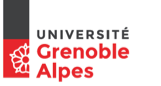 Université Grenoble Alpes
Grenoble - Auvergne-Rhône-Alpes - France
Forces moléculaires et séparation liquide-liquide impliquées dans la compartimentation cellulaire induite par les virus
Chemistry
Biochemistry
Physics
Virologie, biophysicque, séparation de phase liquide-liquide
Topic description
Des compartiments sans membrane, normaux ou pathologiques, sont formés dans les cellules vivantes par séparation de phase liquide-liquide (LLPS), cependant, les mécanismes sous-jacents et les forces agissantes sont encore mal compris. Le projet de thèse financé par l'ANR se concentre sur la LLPS induite par les protéines du virus de la rage pour générer des usines virales (corps de Negri) et explore comment la partition d'autres macromolécules entre les phases diluées et condensées est contrôlée. Les objectifs sont de reconstituer le LLPS in vitro avec des protéines purifiées, et de caractériser les propriétés thermodynamiques (diagramme de phase) et cinétiques du système et la dépendance de ces propriétés à divers paramètres externes (T, p, concentration en sel, ...). À cette fin, diverses méthodes biophysiques seront utilisées, notamment l'ultracentrifugation analytique et la méthode classique de stress osmotique avec détection in situ par rétrodiffusion dynamique de la lumière, diffusion des rayons X et des neutrons.
Funding category
Other public funding
Funding further details
ANR
Presentation of host institution and host laboratory
Université Grenoble Alpes
Le doctorat sera réalisé à l'Institut de Biologie Structurale de Grenoble (IBS) dans le cadre d'un projet collaboratif financé par l'ANR et impliquant l'Institut Laue Langevin (ILL, Grenoble) et l'Institut de Chimie Séparative de Marcoule (ICSM, Marcoule). L'IBS et l'ILL font partie du Partenariat pour la Biologie Structurale (PSB), sur le Campus de l'EPN à Grenoble, qui comprend également l'EMBL Grenoble et l'ESRF, qui fournit un accès à un large spectre de plateformes de biologie structurale de pointe et qui propose des activités dans le domaine des sciences de la vie sous la forme de formations et de séminaires.
PhD title
Doctorat de Biologie
Country where you obtained your PhD
France
Institution awarding doctoral degree
UNIVERSITE GRENOBLE ALPES
Candidate's profile
Master en biophysique, biochimie, chimie ou physique.
Une expérience en biophysique, chimie physique ou chimie des polymères sera appréciée ; volonté de travailler dans un environnement interdisciplinaire ; travail structuré et indépendant ; connaissance de l'anglais.
Apply
Close
Vous avez déjà un compte ?
Nouvel utilisateur ?
More information about ABG?
Get ABG's monthly newsletters including news, job offers, grants & fellowships and a selection of relevant events…
They trusted us