Docteur junior pour projets de R&D à Toulouse
| | | |
| --- | --- | --- |
| ABG-88359 | Job | Junior |
| 2019-11-07 | Permanent | > €35,000 and < €45,000 annual gross |

AUSY
Toulouse - Occitanie - France
I.A., vision 3D, blockchain, cybersécurité, internet des objets
Employer
AUSY, groupe français fondé en 1989, est l'un des principaux leaders européens du Conseil et de l'ingénierie en Hautes-Technologies. En 2018, AUSY a réalisé un chiffre d'affaires de 275M€ et emploie plus de 6000 collaborateurs sur plus de cinquante sites, avec une forte présence en Europe, aux États-Unis et en Asie.
Nominée au Prix de l'Audace Créatrice, AUSY apporte son soutien aux projets porteurs d'innovation
AUSY se positionne en tant que partenaire de référence dans le pilotage de projets d'envergure et accompagne de grandes entreprises à l'international. L'offre de services du Groupe est complète. Elle allie conseil et expertise, réalisation d'applications et de systèmes jusqu'à l'externalisation d'activités in-situ et ex-situ.
Grâce à sa culture de l'innovation et de la performance, AUSY garantit à ses ingénieurs des projets à forte valeur ajoutée et des opportunités de carrière ambitieuses.
Position and assignments
Profil
Pour son département R&D de Toulouse tourné vers l'innovation, AUSY cherche un(e) docteur(e) junior spécialisé(e) dans un ou plusieurs des domaines suivants : intelligence artificielle, vision en 3D, robotique, cybersécurité, internet des objets. Nous cherchons une personne force de proposition, qui saura orienter des développements pertinents autour de ces thématiques
Poste
Intégré(e) à une équipe d'Ingénieurs dont vous aurez en partie la gestion, vous mènerez l'étude et le développement de nouvelles applications autour des thématiques mentionnées. Le but est de réfléchir et de développer des produits à destination de nos clients Grands Comptes.
Diplômé(e) d'un Doctorat orienté informatique et systèmes numériques, vous recherchez un premier CDI au sein d'une entreprise privée. Vous avez déjà été confronté(e) à des problématiques liées à au moins à une des thématiques mentionnées et souhaitez continuer à travailler dans ces domaines.
Dynamique et force de proposition, vous saurez mettre en œuvre et valoriser vos idées dans un objectif d'innovation en lien avec les enjeux concrets de développement de nos clients.
Geographic mobility:
National
Profile
Compétences recherchées : intelligence artificielle, machine learning/ deep learning, apprentissage par renforcement, big data, vision 3D, robotique, cyberécurité
Anglais lu, parlé, écrit
Goals
Généralement un projet de recherche se déroule sur 2 ans.
Au cours de la 1ère année, il faut définir le projet, trouver les critères de progrès techniques, étudier l'état de l'art, et décomposer le projet en phases
Ensuite, il faut gérer l'équipe projet (en général 5 à 10 personnes), lui assigner les tâches et proposer régulièrement des "Proof of Concept" ou POC, de manière à démontrer les progrès (méthodes Agile). Ces POC font l'objet de démos auprès des directeurs opérationnels et de nos clients
Apply
Close
Vous avez déjà un compte ?
Nouvel utilisateur ?
More information?
Get ABG's monthly newsletters including news, job offers, grants & fellowships and a selection of relevant events…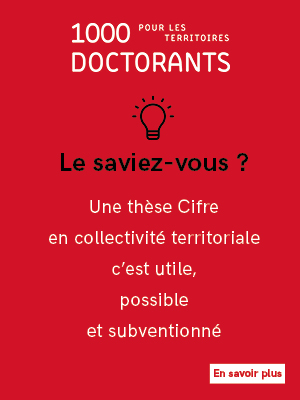 They trusted us