Contrôle et plasticité des circuits moteurs en conditions pathologiques
| | | |
| --- | --- | --- |
| ABG-89546 | Thesis topic | |
| 2020-01-14 | | < €25,000 annual gross |
Université Laval, centre de recherche du CHU de Québec
Contrôle et plasticité des circuits moteurs en conditions pathologiques
Psychology, neurosciences
Neurophysiologie, Cinématique, Optogénétique, Imagerie, Photométrie, Neuroanatomie, Locomotion
Topic description
Le présent projet s'intéresse aux populations de la région locomotrice mésencéphalique et leurs interactions avec les populations réticulospinales. À l'aide de souris transgéniques ou mutantes, l'étudiant examinera les propriétés intrinsèques et synaptiques de ces neurones, leur topographie, leur connectivité au reste du circuit neuronal, ainsi que leur contribution fonctionnelle dans le contrôle moteur et la récupération locomotrice après lésions neurotraumatiques ou neurodégénératives.
Funding category
Public/private mixed funding
Funding further details
Subventions du laboratoire
Presentation of host institution and host laboratory
Université Laval, centre de recherche du CHU de Québec
Notre laboratoire 'Plasticité et développement du contrôle moteur' se situe dans l'axe Neurosciences du centre de recherche du CHU de Québec qui est affilié à l'Université Laval.

Afin d'étudier le contrôle moteur et la récupération fonctionnelle après des lésions médullaires ou neurodégénératives (maladie de Parkinson), notre laboratoire utilise une combinaison de techniques en neurosciences, incluant des techniques optiques (imagerie calcique et outils optogénétiques), neuroanatomiques (traçage neuronal et axonal, immunohistochimie) et neurophysiologiques (enregistrements de type patch-clamp sur tranches de tissus, ainsi que des enregistrements électromyographiques et neuronaux dans des animaux anesthésiés ou marchants librement).
PhD title
Doctorat en Neurosciences
Country where you obtained your PhD
Canada
Institution awarding doctoral degree
Université Laval
Graduate school
Candidate's profile
Le(s) candidat(e)s devraient avoir une bonne formation en neurosciences (license ou maîtrise). Expérience en recherche et en programmation Matlab bienvenue.

Application deadline
2020-04-30
Apply
Close
Vous avez déjà un compte ?
Nouvel utilisateur ?
More information?
Get ABG's monthly newsletters including news, job offers, grants & fellowships and a selection of relevant events…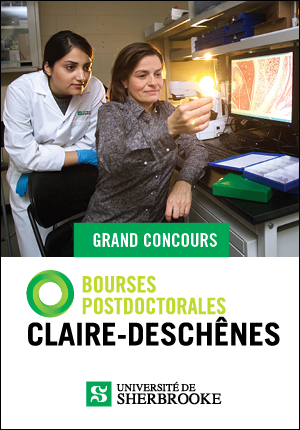 They trusted us