PhD position in glycobioinformatics
| | | |
| --- | --- | --- |
| ABG-92447 | Thesis topic | |
| 2020-06-08 | | < €25,000 annual gross |
Idex université Grenoble Alpes
Grenoble - Auvergne-Rhône-Alpes - France
PhD position in glycobioinformatics
Biology
Computer science
Mathematics
Topic description
Mission:
Lectins are proteins that interact non-covalently with carbohydrates reversibly and specifically while displaying no catalytic or immunological activity. Lectins are thought to have the ability to decipher the glycocode, i.e., the structural information present on complex carbohydrates at the cell surface. Lectins are involved in many biological processes, their interactions with carbohydrates often play an essential role to the onset, detection, and potentially prevention of human diseases such as cancer, inflammation, diabetes, neurodegenerative diseases and bacterial and viral infection. The UniLectin portal is composed of different modules encompassing UniLectin3D, a database with more than 2000 3D-structures of lectins and LectinPred, a prediction tool based on the lectin structure classification to screen available genomes.
Main activities:
Further development of the UniLectin platform is challenged in two domains: i/ content and usability: improvement is expected from extending lectin coverage, and adding new modules and ii/ outreach and integration: UniLectin tools should be used more widely in several communities, such as microbiologists or biochemists and integrated in a larger variety of other bioinformatics resources. The project includes extending the sequence coverage of lectins, modeling carbohydrate binding domains in the new lectins predicted in genomes, predicting specificity towards complex oligosaccharides, and improving lectin domain annotation.
Funding category
Public funding alone (i.e. government, region, European, international organization research grant)
Funding further details
International strategic partnership
Presentation of host institution and host laboratory
Idex université Grenoble Alpes
Structure description
18 months in CERMAV – Centre de Recherches sur les Macromolecules Végetales, a CNRS research institute devoted to Glycosciences (see cermav.cnrs.fr) and affiliated to Université Grenoble Alpes
18 months in SIB Swiss Institute of Bioinformatics affiliated to Université de Genève
Team description
In Grenoble, the student will be part of the Group of Molecular and Structural Glycobiology (resp. Dr. Annabelle Varrot) and his/her work will be under the supervision of Dr. Anne Imberty. The team consists of approx. 20 persons including 10 doctoral students.
In Geneva, the student will be part of the Proteome Informatics Group under the responsibility of Dr. Frédérique Lisacek. The team is composed of two permanent members and two to three doctoral or postdoctoral positions.
The two teams collaborate on the development of bioinformatics tools for the study of glycosciences, with complementary expertise. They already co-developed UniLectin, a new portal devoted to the structure, classification and prediction of lectins. The student will spend 18 months in each group.
Univ. Grenoble Alpes :
One of the major research-intensive French universities, Univ. Grenoble Alpes** enjoys an international reputation in many scientific fields, as confirmed by international rankings. It benefits from the implementation of major European instruments (ESRF, ILL, EMBL, IRAM, EMFL* ). The vibring ecosystem, grounded on a close interaction between research, education and companies, has earned Grenoble to be ranked as the 5th most innovative city in the world. Surrounded by mountains, the campus benefits from a natural environment and a high quality of life and work environment. With 7000 foreign students and the annual visit of more than 8000 researchers from all over the world, Univ. Grenoble Alps is an internationally engaged university.
A personalized Welcome Center for international students, PhDs and researchers facilitates your arrival and installation.
In 2016, Univ. Grenoble Alpes was labeled «Initiative of Excellence ". This label aims at the emergence of around ten French world class research universities. By joining Univ. Grenoble Alpes, you have the opportunity to conduct world-class research, and to contribute to the social and economic challenges of the 21st century ("sustainable planet and society", "health, well-being and technology", "understanding and supporting innovation: culture, technology, organizations" "Digital technology").
* ESRF (European Synchrotron Radiation Facility), ILL (Institut Laue-Langevin), IRAM (International Institute for Radio Astronomy), EMBL (European Molecular Biology Laboratory), EMFL (European Magnetic Field Laboratory)

Key figures:
• + 50,000 students including 7,000 international students
• 3,700 PhD students, 45% international
• 5,500 faculty members
• 180 different nationalities
• 1st city in France where it feels good to study and 5th city where it feels good to work
• ISSO: International Students & Scholars Office affiliated to EURAXESS
PhD title
PhD position in glycobioinformatics
Country where you obtained your PhD
France
Institution awarding doctoral degree
Univ.Grenoble Alpes
Graduate school
EDCSV
Double degree
Yes
Country where the PhD was obtained in cotutelle
Switzerland
Establishment awarding the doctorate in cotutelle
Univ.Genêve
Candidate's profile
Restriction or constraints related to the position
Mobility after 18 months and monthly visits to the other laboratory.
Expected skills :
The successful candidate must demonstrate very good programming skills applied in bioinformatics (Java and Python). Good knowledge of database development and management (PostgreSQL) as well as some knowledge of data analysis and mining methods are expected. Experience in JavaScript is a plus. Finally, our international environment requires high proficiency in spoken and written English.
The candidate should be able to interact with two different teams, working in different domains. Adaptability, sociability and eagerness to learn will be key requirements, as well as being able to work independently.
Previous formation, diplomas:
The candidate should hold a master or engineering degree or any equivalent qualifications
Requested documents:
Motivation letter and Statement of purpose
Copy of last diploma and notes of the two last years
Curriculum vitae
References (at least two)
Application deadline
2020-07-05
Apply
Close
Vous avez déjà un compte ?
Nouvel utilisateur ?
More information?
Get ABG's monthly newsletters including news, job offers, grants & fellowships and a selection of relevant events…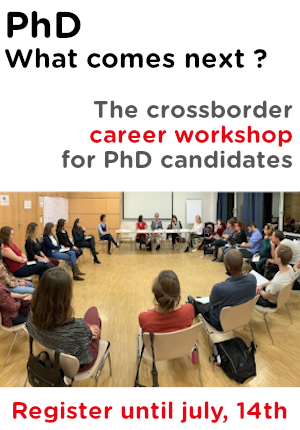 They trusted us