DNA Origami-Enabled Bioelectrochemical sensors
| | | |
| --- | --- | --- |
| ABG-97997 | Thesis topic | |
| 2021-05-04 | | Public/private mixed funding |
Ecole polytechnique de Montréal
DNA Origami-Enabled Bioelectrochemical sensors
Chemistry
Electronics
Materials science
Topic description
For disease diagnosis, and decision support, the detection and quantification of biomarkers is vital. Many current diagnostic medical technologies are costly, complicated, labour intensive, time-consuming and not always accurate. Speeding up the process of diagnosis with electrochemical devices is a major focus of this research.
Objectively differentiating healthy from pathogenic processes can be performed by measuring the electron transfer between a biomolecule of interest or biomarker and the electrode surface at a specific voltage, in only few seconds. Because the measurement is not visual and sample does not require any purification, measurements can be performed in situ and continuously. Many sensors based on antibodies and aptamers have been developed but sensitivity, cost, size, continuous measurement and high throughput features have yet to be established. There are many opportunities to improve sensor performance such as by tuning the size and shape of nanomaterial electrode, removing the use of immunocompounds to reduce the cost and allow continuous measurement, optimizing bi- or tri- metallic nanomaterials to enhance sensitivity and selectivity, increasing the surface to volume ratio of substrate to minimize size. The long-term goal is to develop multi electrochemical detection probes and to implement them as real time decision support in either a clinical environment or the remote areas.
Funding category
Public/private mixed funding
Funding further details
Presentation of host institution and host laboratory
Ecole polytechnique de Montréal
Polytechnique Montréal, université d'ingénierie, propose un enseignement de haut niveau et des activités de recherche qui répondent aux grands enjeux de notre société. Véritable référence, Polytechnique Montréal influence son environnement sur le plan intellectuel, économique et sociale
Candidate's profile
Domaines de recherche: Candidats motivés dans des domaines comprenant, mais sans s'y limiter: l'ingénierie (par exemple, biomédical, physique, électrique, chimique), la physique, la chimie, la biologie et la médecine.
Exigences: Capacité à effectuer des travaux de manière indépendante et responsable.
Le/la candidat-­‐e devra posséder de bonnes connaissances théoriques et pratiques en chimie, nanomatériaux, électrochimie. Connaissances générales en chimie et méthodes électrochimiques (voltamétrie cyclique, spectroscopie d'impédance), caractérisation microscopique (MEB-EDX), spectroscopie (RAMAN, FTIR, UV-Visible)
Il/elle devra de plus montrer une bonne aptitude au travail en équipe ainsi qu'à la prise d'initiatives sur son sujet de recherche. Une bonne maîtrise de l'anglais est souhaitée.
Apply
Close
Vous avez déjà un compte ?
Nouvel utilisateur ?
More information?
Get ABG's monthly newsletters including news, job offers, grants & fellowships and a selection of relevant events…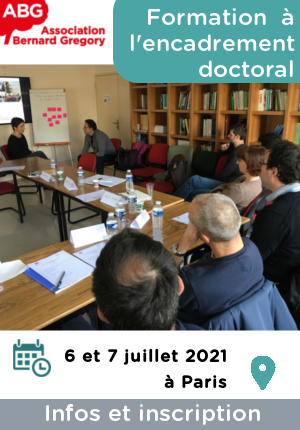 They trusted us