MSCA - Early Stage Researcher (ESR3) - PhD fellowship in feed-back control of individual cells in microorganism populations.
| | | |
| --- | --- | --- |
| ABG-98007 | Thesis topic | |
| 2021-05-04 | | EU funding |
Agencia Estatal Consejo Superior Deinvestigaciones Cientificas (CSIC)
MSCA - Early Stage Researcher (ESR3) - PhD fellowship in feed-back control of individual cells in microorganism populations.
Engineering sciences
Biology
Physics
Topic description
"E-MUSE Complex microbial Ecosystems MUltiScale modElling: mechanistic and data driven approaches integration" MSCA-ITN-2020 European Training Network
The E-MUSE training programme aims at developing young researchers' skills at the interface between artificial intelligence and life sciences. The challenge is to acquire a shared language bridging life science questions and original modelling approaches. The research programme of the E-MUSE network is to develop innovative modelling methodologies to understand a complex microbial ecosystem and identify levers to control and/or predict its evolution. To deal with biological complexity, biologists, mathematicians, and computer scientists have to work together to develop innovative methodologies. An important complexity of this domain originates from scales and dynamics issues, ranging from local kinetics at the level of the cell to emerging macroscopic properties of the biological system. The development of high throughput techniques provides more and more large datasets, but knowledge is not easily inferred from this huge amount of data and multiscale dynamics are still incompletely characterised and predicted. E-MUSE's transdisciplinary network gathers academic and industrial partners to equip Early Stage Researchers (ESRs) with scientific, research and transferable skills to become leaders in academic research or industry. They will be at the cutting edge of the modelling methodologies that we apply to model structural and dynamic features of microbial communities, to identify key processes and biomarkers for specific applications.
Funding category
EU funding
Funding further details
E-MUSE project has received funding from the European Union's Horizon 2020 research and innovation programme under the Marie Skłodowska-Curie grant agreement No 956126.
Presentation of host institution and host laboratory
Agencia Estatal Consejo Superior Deinvestigaciones Cientificas (CSIC)
The Spanish National Research Council (CSIC-Agencia Estatal Consejo Superior de Investigaciones Científicas) https://www.csic.es/en/csic is an autonomous, multi-disciplinary public research body affiliated to the Spanish Ministry of Science and Innovation. The CSIC has its own legal structure and is represented throughout the Spanish territory with a total of 105 centres/institutes. CSIC is the first Spanish organization by number of projects and economic return in the Framework Program of the European Union.
The I²SysBio https://www.uv.es/i2sysbio is a joint research institute involving Universitat de València (UV) and CSIC. I²SysBio Scientific Programs focus on research into structure, function, dynamics, evolution, and manipulation of complex biological systems. The mission of I²SysBio includes the following areas of action:
• Create a multi- and inter-disciplinary work environment where scientists from different backgrounds work together dynamically and continuously to solve common problems.
• Develop high-quality research and achieve excellence in the field of integrative systems biology.
• Produce high value-added knowledge with potential transfer to industry.
• Train researchers in a multidisciplinary field with broad future projection.
The I²SysBio seeks to provide solutions to problems that may arise in the pharmaceutical, biotechnological, biomedical and agribusiness sectors that are open to a systems approach (e.g., through metabolic engineering and synthetic biology).
Candidate's profile
Eligibility criteria
Any nationality
Early Stage Researchers (ESR)
The applicant needs to be in the first four years of their research careers at the date of recruitment by the host organisation, and have not been awarded a doctoral degree.
The first four years are measured from the date of applicant's degree either in the country in which the degree was obtained or in the country in which the researcher is recruited, irrespective of whether doctorate was ever envisaged.
The ESR must have not resided or carried out main activity (work, studies, etc.) in the country of their host organisation ≤ 12 months* in the 3 years immediately prior to their recruitment.
Exceptions: The ESR must not have spent more than 12 months in the 3 years immediately prior to the date of selection in the same appointing international organisation.
*EXCLUDED: short stays such as holidays, compulsory national services such as mandatory military service and procedures for obtaining refugee status under the Geneva Convention
Applicants must demonstrate fluent reading, writing and speaking abilities in English.
ESR3: Master's degree in engineering, physics, systems biology, applied mathematics or biology with a strong theoretical/computational component no later than September 2021. You should NOT have any kind of PhD degree. Previous research experience (which must be no longer than 4 years) although appreciated, is not mandatory.
Good mathematical/computational background. Dynamic Nonlinear systems skills (Appreciated).
Ability to (learn to) communicate with different disciplines (experimental, computational, theoretical)
Educational background and previous research experience relevant for the chosen position
Networking and good communications skills (writing and presentation skills)
Willingness to travel abroad for the purpose of research, training and dissemination
English: B2, good oral and written communication skills in English are compulsory
Apply
Close
Vous avez déjà un compte ?
Nouvel utilisateur ?
More information?
Get ABG's monthly newsletters including news, job offers, grants & fellowships and a selection of relevant events…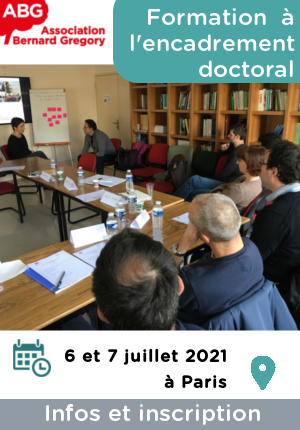 They trusted us