BACTERIAL FERMENTATION PROCESS ENGINEER
| | | |
| --- | --- | --- |
| ABG-98588 | Job | Any |
| 2021-06-11 | Permanent | Salaire à négocier |

LIPOFABRIK
LESQUIN - Les Hauts de France - France
Biotechnology
Engineering sciences
microbiology, biochemistry, biotechnology, fermentation, bacterial fermentation, bacillus, culture
Employer
LIPOFABRIK is a young and innovative biotechnology company developing a new generation of highly efficient and non-toxic biopesticides. We are indeed specialized in secondary metabolite production through fermentation processes. Our main products are lipopeptides from Bacillus Subtilis strains. We target high potential B to B industrial markets such as plant crops protection but also cosmetic market.
LIPOFABRIK is developing a new generation of highly effective biostimulants and biopesticides and is recruiting a fermentation engineer to prepare the industrialisation of its production.
Position and assignments
Contract
Permanent position.
To start as soon as possible.
Main tasks
Reporting directly to the CEO, you will be responsible for the following tasks
Participate in the development of the industrial process by optimising the productivity and purity of production batches.
Launch and monitor metabolite production in industrial pilot fermenters in order to meet our customers' requirements.
Carry out optimisation trials in small fermenters and flasks.
Participate to collaborative R&D programs.
Provide QC analysis and reports.
Monitor technology intellegence.
Geographic mobility:
No business trip
Profile
Training & experience
At least 2 years experience in industry for bacterial cultures by aerobic fermentation techniques.
PhD in Biochemistry, Microbiology, Biotechnology or graduate of an engineering school.
Skills
The candidate must have the following scientific and industrial skills:
Culture of microorganisms (bacteria and yeast) in industrial bioreactors. Significant industrial experience on fermenters of 3m3 or more would be a real asset.
Analytical biochemistry (mainly HPLC)
Practical knowledge of experimental design.
You are a hands-on person, responsive, mobile and have good interpersonal skills to interact within the team and with the company's partners. You have a good sense of organisation and show autonomy and initiative. You are passionate about your work and will do your utmost to achieve the objectives set. This is a progressive position for a candidate with strong potential, who is involved and has a strong sense of initiative.
Being part of a passionate team working in an international environment, you possess good communication/writing skills and proficient in English.
Apply
Close
Vous avez déjà un compte ?
Nouvel utilisateur ?
More information about ABG?
Get ABG's monthly newsletters including news, job offers, grants & fellowships and a selection of relevant events…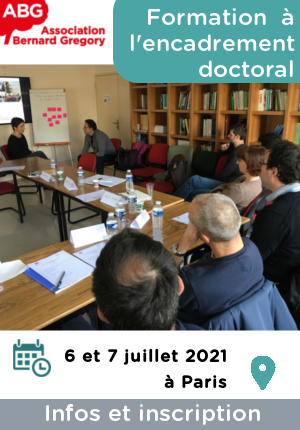 They trusted us