LinkedIn is an unbelievable tool to increase your visibility and develop your network, provided that your profile is a good one. Here are the 5 major criteria for success.
1. Use a specific headline



Never use "Looking for a job" or "Unemployed". This is the first thing one will see onyour page! Choose as a headline your current, past or targeted job position. Recruiters must immediately understand what you do and what you're looking for.
2. Choose a good picture for your profile



Your profile is 7 times more likely to be consulted if you add a photo. However, select a picture of you which conveys your enthusiasm and your professionalism. Smile, you are observed! Make sure that the first impression you make is the good one, it is really important!
3. Be clear by writing your resume



There are no restraints to write a resume but some rules must be respected: be concise, eliminate jargon and write with the first person.
4. Select the right keywords



Your goal is to be found by search engines when specific skills are required. Using keywords will help the visitors of your profile to better understand what you are able to do. Take inspiration from profiles similar to yours to find the right keywords. Also, recommending the skills of your contacts may encourage them to recommend yours.
5. Enrich your profile



Highlight your uniqueness! You can make your profile more attractive by linking external videos (e.g. a speech at a conference), presentations (slideshare), achievements or publications! Don't hesitate to ask former colleagues or employers to write a recommendation on your profile.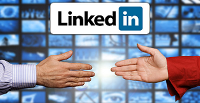 Then, it will be time to begin with your quest for new professional contacts. Be proactive: create the opportunities, don't wait! Last but not least:

don't forget that being active on the Internet is fine but nothing will ever replace a handshake.