Postdoctoral fellowships at Tepsis LabEx
Ludovic Fery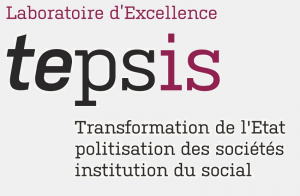 French laboratory of excellence Transformation de l'Etat, Politisation des Sociétés, Institution du Social (Tepsis) has opened a call for three postdoctoral fellowships, sponsored during one year, renewable once.
The Tepsis LabEx (Laboratory of Excellence) brings together 13 founding members and two doctoral schools (

Ecole des Hautes Etudes en Sciences Sociales

and ENA).
Two of the three recruited post-doctoral researchers

will share their time between a project within one of three laboratory research goals (transformation of the state, society politicization, social institutionalization) and achievement of

The Encyclopedia of historical and social science policy

project.
The third post-doc will be assigned to one of Tepsis teams or UMR. Candidates must respond to this call at the latest 28 August 2016 at midnight, by email to the laboratory office as well as to Dr. Emmanuelle Glon.
To read more about these fellowships:
http://tepsis.hypotheses.org/3912
---
ABG is a French non-profit organization. Our missions are :
To facilitate the transition of PhDs (whatever their field and seniority) from academia to the private sector;
To help companies recruit PhDs.
> Search a job ad or post a job.
Join us on these social networks :