From academic experience…
The choice of Ludovic to go to Germany from 2005 to 2011 and to do a PhD at the Universität des Saarlandes (Saarbrücken), can be explained by the following reasons: the research subject in the microscopic and nanoscopic field but also the professional environment which was quite

"pleasant"

. In funding terms, his project was made possible thanks to
the Marie Curie Actions.
At this level, for those who are reluctant to engage in a mobility experience,

our interlocutor advises joint PhDs as it allows both to have an experience abroad and at the same time to keep in touch with the origin country and thus to facilitate the return

. In this regard and for more information, you can visit the website of Campus France.
Some words about daily life, this experience?
"I was part of a network of several European universities and actors from various nationalities. It was very interesting and rewarding to meet people from different backgrounds"

. Adaptation skills are here quite useful.
Then, the objective of Ludovic to work in the private sector, led him to

the United States.
To the experience in business
Considering having acquired a good university experience, Ludovic looked then for a postdoc. in a company, but without success. The International Volunteers in Business programme (VIE – Volontariat International en Entreprise) allowed him to carry out his project. After looking at job ads posted on the Ubifrance website, he finally sent an unsolicited application to Rhodia (Solvay Group) and decided to go to the USA. He joined there in 2011 and for one year, the COMPASS team (Complex Assemblies of Soft Matter), a joint research laboratory located in Bristol (Pennsylvania), involving the CNRS, the University of Pennsylvania (UPENN) and Rhodia.
Some words about your activity there?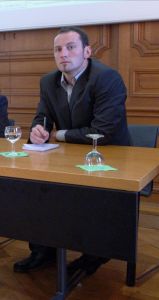 100% of the work time of Ludovic was devoted to research, a job at the interface of physics and chemistry in the field of conducting polymers and in the "Organic electronics" team. A team of five people working on the electrical conductivity of thin polymer films.

« It's a dynamic laboratory with specific goals and giving compared to other structures, more importance to the development and applied field »

. Something new for him: The President of the company regularly gave conferences focusing on the achievement of objectives, outcomes, productivity.
In other words,

"the aim was not to do research for the sake of knowledge. We had to take into account goals and their economic impact. This was not easy to implement from my point of view. At the academic level, there is much less limits. Here people should be more specific and focus on what may interest the company in the long term."


At the same time, Ludovic emphasizes the importance of combining these two kind of speech -

academic and business research

– and to work the inertia between these both worlds by focusing on possible links.
Back in France
The network matter was the main problem of Ludovic once back in France.

« This is one of the disadvantages of going abroad and one of the advantages of a joint PhD. My host lab in Germany for example, had no collaboration with France »

. So now, he is building his network and thinking about his career and future.
And if you had to do it all again?
"Yes, right away. Maybe a little bit differently, but I would do it willingly. "

Which advice would you give to a PhD student, a young researcher?
The first « message » of Ludovic:

"During my Master in Chemistry at Lille, I decided to go for a 3 month traineeship in Ireland in the framework of the Leonardo da Vinci programme. In other words, funding schemes are available, you have just to know how to look for information. For those who really want to leave, there is not too much to worry, it all depends on your project and goals. It takes some involvement and some perseverance. In my case, I sent about thirty CVs and I received only one positive feedback. "
Then here are his other tips:
Build and cultivate professional and personal network;
Be informed beforehand about

the culture of the host country

in order to avoid or at least minimize cultural shocks;
Know how to

welcome newcomers

. Problems related to the arrival in a foreign country, for example, and how to solve them can be useful for others and facilitate their stay;
Try to

develop a social relationship

with local people;
Carefully

prepare your departure

, stay and return. Take all the usefull information at the administrative level, ie taxes, social security, and so on.

To the question: Is going abroad opens according to you, some doors to do research in business?

Ludovic answers,

"It must be done smartly, carefully think this kind of experience because it can interest for example, a SME which wants to develop its business at an international level."
The above comments were collected following the participation of Ludovic at the European workshop
"Encouraging creativity and innovation through researcher mobility: strategies and best practices"
which was hold in Paris on June 3 and 4, 2013.