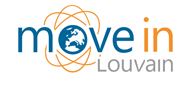 "MOVE-IN Louvain" was developed by the Université catholique de Louvain (UCL) in partnership with the Université de Namur (Unamur) and the Université Saint-Louis (ULS-B) with the support of the European Commission (Marie Sklodowska-Curie actions).

By supporting highly-qualified post-docs from abroad, it aims at

reinforcing the international dimension of the three partner institutions

and thus to

build scientific and technological (S&T) collaborations and long-lasting networks between the respective research fields

.



These Incoming post-doc Fellowships are addressed to

:
Experienced researchers holding a doctoral degree (PhD) or having at least 4 years of full-time equivalent research experience;

Researchers with a maximum of 6 years of post-doc experience;

Researchers in mobility condition: who have not resided or carried out their main activity (work, studies, etc.) in Belgium for more than 12 months in the 3 years immediately prior to the call deadline.
The stay should cover 12 up to 24 months and exchanges must take place in a research unit of one of the three host institutions

.
Financial support

includes:
A net monthly allowance, taking into account the experience of the fellow (average in 2016 with 2 years of working experience: 2.311,36 EUR/month);

The personal liability insurance costs;

The contribution to the National Office of Social Security (NOSS);

A bench fee of EUR/year 5,000 for laboratory-based research or EUR/year 2,500 for non-laboratory based research;

Travel allowance: this amount will be calculated taken into account of the country of origin of the candidate (depending on the country, it could range from 250 EUR/year to 2.000 EUR/year).
The programme will last 5 years, issuing 3 calls for proposals.


Application deadline for the third Call: January 4, 2017

.

On the UCL's website you will find

useful information

such as the

"Guide for Applicant 2017"

.