How did you get this opportunity to go to the United States?
According to Sophie Dutheil, everything happened quite naturally.
If She enjoyed her work at the

University of Aix-Marseille

, she wanted after the defense of her thesis to

"discover something else, an another culture"

, have

"an openness perspective"

and improve her English. Six months before completing her PhD, she has sent spontaneous applications by e-mail, focused on the East Coast of the United States. Among received proposals, she will choose the laboratory of the Dr. Ron Duman at Yale University.
Some words about your leaving?
"Everything happened very quickly. I have accepted the Yale position in late June. I bought a flight ticket to arrive in mid-August, as my ATER (Attaché Temporaire d'Enseignement et de Recherche - Temporary Assistant for Teaching and Research) contract at Marseille ending at that time. I had then to quickly start visa application procedures. July and August were quite stressful months: sell all my furniture, household appliances, carry out all the administrative procedures, pack my bags, and so on"

.
And, about the housing?
"Actually, I took care of it before I left and I found thanks to local classified ads, a furnished flat in New Haven. All of this from France, through the web, including the lease signing. But most people remain at the hotel until they find a housing that suits them".
At the language level, have you had problems?
"Yes. I had some difficulties at first, but with the immersion, things progressively have improved . Americans love French accent; apparently it is even their favorite accent! "

.
A few words about your current activity?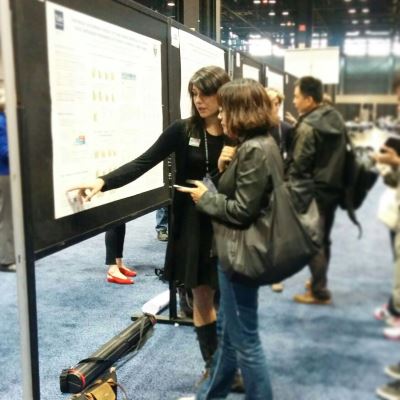 "As part of my postdoc, I worked on links between depression and type 2 diabetes. Diabetic patients, often overweight, suffer from anxiety more easily and are more vulnerable to depression. My research project was then focused on the effects of long-term consumption of a diet too rich in fats (6 times higher than normal) which generates anxiety and depressive symptoms. I also observed other consequences in the brain and this study opens the way to the utilisation of new treatments with very fast effect. I learned a lot during these last three years"

.

For more information on our interlocutor's recent work, you can read published papers in the YaleNews.
Despite the interest of her research activities, Sophie is already thinking about the new job she will start in early 2016 in a pharmaceutical company based in New York.
"The contract is already signed, there remains the problem of the visa transfer"

.
Sophie currently has a J-1 visa "Professor and Research Scholar". This document allows for example to researchers to work in the US, but only in the framework of a specific program. Her future company has therefore hired lawyers in order she could get a O-1 nonimmigrant visa, "Individuals with Extraordinary Ability or Achievement".
To learn more about the different types of visas, please see the website of the OISS (Office of International Students and Scholars) at Yale.
Does it mean that you intend to pursue your career in the US?
"Yes, but at first, I was thinking to return to live in Marseille, after my postdoc and with my boyfriend who is American. I was planning to target pharma or biotech industry, I had already found where I could apply and I had almost finished translating my CV in French"

.
But, unexpectedly, his manager will forward her an email which will be decisive.
"We've talked about what I wanted to do next year and he knew that I wanted to go in the industry. In the email, an ad for a new research position in a pharmaceutical company in NYC. At first, I hesitated, then I applied and it worked!"

.
What are the main differences between your experience in France and the US?
"In France, the only prospect after the PhD, when I listened to researchers around me, seemed to be the academic world. When I arrived here, I discovered that there are many other possible jobs: working in a non-profit organization, in the pharma or biotech industry; working for regulatory affairs, government; becoming a consultant in products for laboratories, fostering the scientific writing, and so on. There are many associations which provide support to people interested by non-academic positions. At Yale, there is the CNPSY (Career Network for students Scientists and Posdocs at Yale), a network which I am part of the management team. We organize events throughout the year and invite professionals to talk about their experience and give advice. If the job I will start next year was an opportunity that I seized, this association allowed me to clarify what I wanted to do and then to make my choice".
Among factors that motivated her decision to move towards the Pharmaceutical Industry: work in a team with complementary skills, all with the same goal, and bring something concrete, a finished product that helps a patient population. Although she does not have many days off over the year compared to France, only 15 days, Sophie appreciates that there is

"always someone at the lab"

, regardless of week's day, weekends and holidays included.
Some words about daily life?
"I enjoy life here. The mentality is more positive, people are happy when someone manages something. After, there is this very expansive side, very American, which sometimes surprises me and makes me smile"

.
What would be your advice to those who would be interested in a mobility experience?
"The expatriate status allows to discover in depth another culture, and to better know oneself through these new benchmarks. I would encourage PhD students to not hesitate if they feel attracted by such an experience. And above all, be sure to choose the people with whom they will work.
Give the priority to a job in a friendly team, they will be happy to see every day. This is what has guided my choices till now; this is a very important dimension for me. In the company I will join, I will find this relational aspect, human, which is dear to me. Furthermore, I would say that it is also a good thing to change of research subject, to get out of one's comfort zone; it is always rewarding and this helps to show one's adaptation and flexibility capabilities"

.