H2020 ITN : Designing and Engineering Multimodal Feedback to Augment the User Experience of Touch Input
| | | |
| --- | --- | --- |
| ABG-91011 | Sujet de Thèse | |
| 25/03/2020 | | > 25 et < 35 K€ brut annuel |

University Stefan cel Mare of Suceava
H2020 ITN : Designing and Engineering Multimodal Feedback to Augment the User Experience of Touch Input
Computer science, interaction, automotive application
Description du sujet
No tuition fee - ~2800€/mnth (gross)
Job description:
Within the framework of the MULTITOUCH project, the candidate will design, engineer, and evaluate prototypes and applications for multimodal haptic feedback, including:
Review the state-of-the-art of the application potential of mixed tactile, visual, and auditory stimuli for enhancing the User Experience (UX) of touch input.
Design, engineer, and evaluate multimodal feedback for practical prototypes, applications, user studies, and controlled experiments.
Participate in the activities of the MULTITOUCH project, including: attending to training, courses,workshops, collaborating with the network partners, and undertaking secondments at the MULTITOUCH partner organizations.
Produce written outputs as required during thePhD studies and contribute to the dissemination activities planned for the MULTITOUCH project.
Present regular progress reportsin accordance with the MULTITOUCH program of research.
Participate in secondmentsat an industrial partner (HAP2U) and collaborate with the industrial partner to implement new eyes-free user interfaces without visual feedback.
Prise de fonction :
28/09/2020
Nature du financement
Autre financement public
Précisions sur le financement
H2020 ITN MSCA
Présentation établissement et labo d'accueil
University Stefan cel Mare of Suceava
University Stefan cel Mare of Suceava
The University Stefan cel Mare of Suceava is one of the fastest rising universities in Eastern Europe with a comprehensive curriculum including more than 100 programs at undergraduate, master, doctoral and post-doctoral levelsin Arts & Humanities, Engineering & IT, Life, Natural, and SocialSciences. A unique educational outpost, its transnational platform is aimed at discovering, preserving,and disseminating knowledge while promoting basic European principles in an area where the credibility and identity of the European Union needs to be strengthened. USM comprises 10 Facultiesandaround 350faculty members and 10,000 students. USM has been awarded the"High Degree of Confidence" Certificate (2013 –2018) for its high quality of education and standards by the Romanian Evaluation Agency for Quality Assurance in Higher Education, a certificate that was renewed in 2019 for five more years. The most recent QS EECA University Rankings (EECA 2019) highlights USM occupying position 11 among all Romanian universities. The Machine Intelligence and Information Visualization Laboratory (MintViz) of the MANSiD Research Center is an interdisciplinary lab combining Artificial Intelligence and Information Visualization technology to support rich interactions between humans, computers, and environments.
Intitulé du doctorat
PhD in Computer Science
Pays d'obtention du doctorat
Roumanie
Etablissement délivrant le doctorat
University of Suceava
Ecole doctorale
Profil du candidat
Requirements of the candidates:
Master degree in Computer ScienceorInformation and Communications Technologyor anotherclosely related disciplinein accordance with the specifics of the job description.
Excellentprofessional,technical, and analysis skills and an analytical mindset.Ability to engage in technological areas and interdisciplinary studies.
Motivation to work in a research laboratory environment, independently and as a member of a research team, and passion for conducting scientific research.
Excellent communication skills and English proficiency.
Eligibility of ESRs
according to MSCA-ITN actions:Applicants must satisfy the eligibility requirements for an ESR under the H2020 ITN Programme. In particular, they should be eligible to be appointed as an ESR in Romania by satisfying the following:
Have less than 4 years research experience after Undergraduate/Masters graduation (this is cumulative research experience and does not include management/industrial or other work experience).
Not hold a PhD degree (PhD candidates under 4 years of registration and before completion may apply).
Have resided or carried out their main activity in Romania for less than 12 months (cumulative) in the3 years prior to the expected starting date of this position, which isSeptember 28, 2020.
Date limite de candidature
01/05/2020
Postuler
Fermer
Vous avez déjà un compte ?
Nouvel utilisateur ?
Besoin d'informations ?
Vous souhaitez recevoir une ou plusieurs lettres d'information de l'ABG. Chaque mois des actualités, des offres, des outils, un agenda…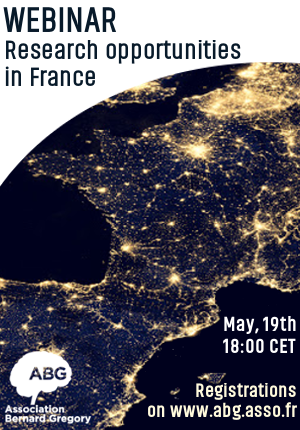 Ils nous font confiance