Development of a cell culture monitoring TFT sensor array platform for iPS differentiation analyze: JSPS Postdoctoral Fellowship on the project through the CNRS
| | | |
| --- | --- | --- |
| ABG-91036 | Emploi | Junior |
| 26/03/2020 | Autre type de contrat | > 35 et < 45 K€ brut annuel |
LIMMS/CNRS-IIS (UMI 2820)
Thin-Film-Transistor technology, iPs cells, Sensor array platform, Micro-fabrication, Micro-fluidics, Electrical bio-sensing, Bio-sensor, Dielectrophoresis, Impedance sensing, Neuron cells, Cardiomyocyte cells
Recherche et Développement
Employeur
LIMMS (Laboratory for Integrated Micro Mechatronic Systems) is an international laboratory between the French CNRS (Centre National de la Recherche Scientifique) and Institute of Industrial Science (IIS), the University of Tokyo, located in Komaba, Tokyo. LIMMS has more than 24 years of experience in international cooperative research and has welcomed more than 240 researchers from France and Europe.
LIMMS opens a new postdoctoral position in the laboratory of Professor Agnès Tixier-Mita, Institute of Industrial Science, University of Tokyo, principal investigator (PI) of the proposed project, in collaboration with Professor Ikeuchi, LIMMS/CNRS-IIS (UMI 2820)
The PI main research activity concerns the investigation and the development of advanced integrated sensor platforms for biological applications. Analyses of biological entities is usually performed optically. However, optical techniques are not portable and do not allow long term and real time observation. Electrical analyses techniques propose another approach to biological questions, complimentary to the optical ones while overcoming their limitations. In particular, the host laboratory is pioneer in using Thin-Film-Transistors (TFT) technology for biological applications. TFT technology is the technology used in the fabrication of Liquid-Crystal-Displays (LCD). It is the only technology which allows to obtain transparent devices with a surface covered by a large array of sensors, which resolution can reach single biological cell. These sensors have been developed for analyzes and manipulation of biological cells, but can also be used for bio-molecule sensing. In addition thanks to the device transparency, optical analyses can be combined to electrical analyses.
The laboratory's research is very interdisciplinary and deals with electronics, micro-fluidics, micro-fabrication, biology and biochemistry. It has access to a clean-room for the microfabrication or devices post-processing, and a room called "Bio-room" for basic culture and biological experiments on cells, as well as a complete environment for the interface and the sensing of the biological entities with electronic platforms. The host professor is the responsible for that "Bio-room". Her research team is a small but dynamic group of Masters, PhD students and researchers. They are working on interfacing TFT platforms with neuron cells, cardiomyocyte cells or muscle cells for activity sensing, 2D cartography of the activity, and investigation of fundamental bio-medical questions to which electrical sensing can bring new information. Electrical monitoring of cells culture is also under development by means of impedance sensing. Other topics include electrical manipulation of cells by dielectrophoresis for cells patterning, and the development of biosensors array. Fundamental bio-medical questions are investigated in collaboration with expert biological or medical laboratories, like the one of Prof. Ikeuchi, the collaborator of the LIMMS host professor.
Poste et missions
The principal investigator and her collaborators at the Institute of Industrial Science (IIS), the University of Tokyo, are interested in studying induced pluripotent stem (iPS) cells differentiation process. iPS cells are considered one of the major advances in biotechnology as they can differentiate in any cell of the human body, and are extremely interesting for regenerative medicine and personalized medicine. However, differentiation into one target cell type do not always show high efficiency, as iPS in a same culture can differentiate into several other types of cells. Improvement of the efficiency is a very heavy work, requiring large number of cultures and is time consuming. Analyses of all these culture is also very heavy as a one by one optical observation is the unique way.
The PI laboratory is collaborating with a medical cardiology laboratory on the study with TFT platforms of mouse primary cardiomyocyte cells activity. The following step of this collaboration is to work with human iPS cells-derived cardiomyocyte to develop a medical model. Monitoring of cells during differentiation is mandatory in order to improve efficiency and get better understanding. In parallel, the project will also be conducted in collaboration with the biomolecular and cellular engineering laboratory of Prof. Ikeuchi in IIS, as his group is working with iPS cells differentiating into neurons to build neuron network and micro-brains organoids.
In this project, the PI would like to develop a cell culture monitoring TFT platform for the purpose of iPS differentiation analyze: precise 2D maps of the condition of the culture evolving with time and the surrounding environment are the expected results. TFT platforms can allow large sensing surface with a resolution as small as a single cell: they are perfectly suitable with the target of the project. A first version of the cell culture monitoring TFT platform has already been developed in the laboratory to discriminate between healthy and dead cells by impedance sensing on a limited 1D area. First results have also been obtained with iPS cells culture showing that differentiated and not yet differentiated cells had different impedance signature.
The PI would like to welcome a post-doc researcher who would work on the second version of the cell culture monitoring TFT platform. The role of the post-doc researcher will be: a) to improve the actual impedance sensing TFT platform to extend it in 2D sensing; b) to explore the influence of various experimental conditions on the cells culture, for a more efficient differentiation. The expected results of the platform are the real time mapping of iPS cells culture, to follow the evolution of differentiated and non-differentiated as well as dead cells. The electrical activity of mature cardiomyocytes or neurons after differentiation will be registered and analyzed with the same TFT platform, and will inform about the efficiency of the differentiation. The final goal of the project will be the development of a tool which would help in the analysis and the better understanding of differentiation phenomena. The development and the results obtained will serve as bases for more general cells culture monitoring (not only with iPS cells).
Fellowships are tenable for a period of between 12 and 24 months and must start in Japan during the period of 1 September - 30 November 2020
Mobilité géographique :
Internationale
Profil
The following skills are expected:
Microfabrication (lithography, wet and dry etching, deposition).
Microfluidic skills: PDMS molding and microfluidic devices fabrication and utilization.
Cells culture expertise. If not, some knowledge in handling biological and cells samples.
Optical microscopy using an inverted and fluorescent microscope.
Electronic devices basic expertise.
Sensing background (if possible impedance sensing on biological cells).
Electronic apparatus usage: oscilloscope, function generator, lockin amplifier…
Basic knowledge on data processing.
Knowledge in Mathlab, COMSOL, LabView or similar softwares.
Due to the very international environment, and the research environment, an open minded, flexible and quite independent personality is really welcome.
Objectifs
The recruited post-doctoral researcher work will be performed in 3 steps: training; application and validation of the sensing technique to local area; 2D measurements and exploration of experimental condition change.
First year: Training and local sensing on iPS cells culture.
During the first part of the first year the post-doc researcher will mainly receive training to become independent on the TFT platform usage and iPS cells culture. Then he/she will begin to perform impedance sensing and correlate the results with theoretical results.
The PD researcher will begin with a training to become independent on the first version of the TFT platform and related electronic tools usage. He/she will learn how to mount the platform, how to connect it, how it is working and how to control the sensors.
Training on iPS cells culture (cardiomyocytes first, then neurons).
Once the training period is achieved, the researcher will perform iPS cells culture on the TFT platform then will continue with impedance sensing on a localized area.
He/she will then correlate the results with theoretical and simulation results.
If necessary re-design of the device for sensing improvement will be performed.
Second year: 2D monitoring, and investigation of various biological conditions
The target of the second year is to implement the 2D monitoring on the platform, then to perform more advanced investigation on the influence of various parameter on iPS cells culture differentiation.
2D monitoring implementation on iPS cells culture. Cells culture has a 2D dimension which expand on the whole surface of the platform. The PD researcher will have to improve the measurement system in order to reach large area sensing, then to automatize the mapping of large area. The target is to be able to show the 2D cartography of an iPS cells culture, which would inform on the areas on the device with: not yet differentiated healthy cells, differentiated healthy cells, dead cells and without any cells.
Data collection and data processing for 2D monitoring. 2D data will come from thousands of sensors for each mapping, and will accumulate with time. The PD researcher will have to develop a processing system to interpret the measurements. Based on the data obtain a real map of the cells culture would be obtained, and analyzed temporally.
The PD research will investigate in an automatic way various culture conditions in order to understand the parameters and conditions which influence the culture and the phenomena of differentiation and necrosis in a stem cells culture, and understand better differentiation phenomena
Postuler
Fermer
Vous avez déjà un compte ?
Nouvel utilisateur ?
Besoin d'informations ?
Vous souhaitez recevoir une ou plusieurs lettres d'information de l'ABG. Chaque mois des actualités, des offres, des outils, un agenda…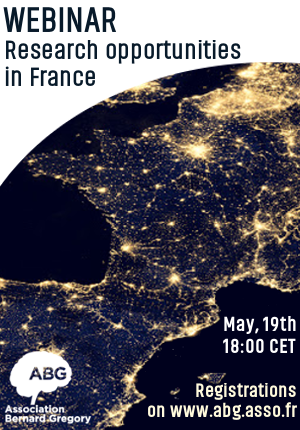 Ils nous font confiance