An international research experience within an European network
Clarisse Faria-Fortecoëf
After a joint PhD between France and Italy, a stay in Greece, in the United States and in the UK, Eric Buchlin is currently a researcher at the Institute of Space Astrophysics, a CNRS laboratory and the University Paris-Sud, Orsay.
Eric Buchlin is interested in physical processes in the solar atmosphere and in the heliosphere. On the occasion of the European workshop "Encouraging creativity and innovation through researcher mobility: strategies and best practices", organized by the ABG, the British Council and the UFA (Franco-German University) at the MEDEF (national confederation of French employers) and the IHA (German History Institute) in Paris on 3 and 4 June 2013, Eric was invited to talk about his experience of mobility and international research.
This paper is based on his presentation at this event as well as on a conversation we had together on June 28, 2013.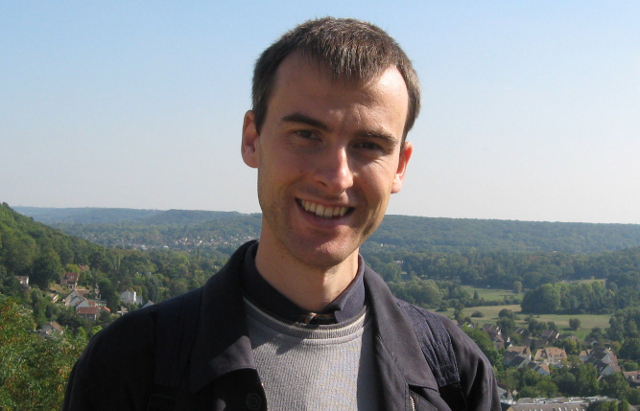 Why the choice of Italy and how did you get this opportunity?

The joint PhD (2001-2004) between France (University of Paris-Sud) and Italy (University of Florence) was for Eric the opportunity to develop collaboration between two research teams of both countries, as well as to participate in a same European network on the turbulence in space plasmas. Stays in Italy were of a period ranging from three weeks to a month during all the PhD's duration. Thanks to the links between the Ecole Normale Supérieure in Paris and the Scuola Normale Superiore of Pisa - city where lived his PhD's Italian supervisor, also professor in Florence - Eric was easily able to get an accomodation. In addition to the research grant from the French Ministry of Higher Education, living expenses were covered by a fellowship from the Franco-Italian University (about € 5,000).

After the thesis
After the PhD, the experience was followed by a postdoc in 2005-2006 in the same laboratory in Italy, with the Italian thesis supervisor and a Marie Curie funding from the same European network.
The stay in Greece
This postdoc began by a three-week stay at the University of Thessaloniki (Greece), in another laboratory, but within the same European network. "Even if it was a short stay, it was scientifically very interesting. I took the opportunity to try to put my thesis research in a broader context, and discover new methods".
The experience in the US
The contract in Italy continued (March-June 2005) by a three-month stay at the Institute of Pure and Applied Mathematics (IPAM) at the University of California, Los Angeles (UCLA). This represented a new teamwork and networking experience, as Eric did not go alone but with his Italian group "we all met in Los Angeles. I worked in a research and workshops programme on numerical simulations in astrophysics. It was very interesting and it helped me a lot to improve my code of numerical simulations". In terms of funding, travel and stay were supported by the U.S. laboratory and the salary was provided in the framework of the Marie Curie fellowship. At the accomodation level, "I found a flatshare before leaving, in a very pleasant environment, just between the university – where I went by bike - and the sea."
The return to Italy
After four months in the United States, "I went back to Florence in July 2005, I looked for an apartment and with the salary of the Marie Curie grant, I have not had problems. At the network level, contracts were managed by teams, which represented a period of three or four years of postdoc per group ". In Florence, "my garden was almost that of the Palazzo Pitti. Again, I used my bike to get around, I rode to the Observatory on the hill where Galileo made his observations, his house was right behind. Behind the Observatory, there were the hills of Tuscany. A very pleasant environment". A small problem that should be pointed at departure: "notice in Italy to release a housing is 6 months and I did not know until three months before the end of my contract that I had to leave, the homeowner was not very happy, but finally he was nice. Some problems also for the termination of the phone and internet contracts ... ".

As the European network began during the thesis and lasted 4 years, the contract in Florence could not be renewed after February 2006, but the experience was able to be pursued in England.
The experience in the UK
Despite the end of the European network, Eric will be recruited by the Director of the same network at the Imperial College in London, in the Space and Atmospheric physics group - SPAT). He worked there from March 2006 to November 2007, in the framework of a "Postdoctoral Research Assistant " fixed-term contract.
This contract was funded by the PPARC (Particle Physics and Astronomy Research Council). "There are several Research Councils, it's not like the CNRS where institutes are not independent. Coming in this research group was ideal for me, it allowed me to add to my simulations' code, physical effects that allow in particular to make a direct comparison between outcomes and observations". In accomodation terms, "I had a week at the hotel paid, in order to look for housing. Not easy, because my salary had decreased compared to Marie Curie, while rents were very high (1,000 € per month for a room). I found a flat which I shared with 5 other people of different nationalities. It was lively in the kitchen. It was a kind of HLM (low-cost housing), but very conveniently located between Victoria Station and the lab.". Here also, Eric rode to work on a bicycle. "What I did on arriving in a new place, it was to buy a bike before anything else." The experience went very well despite less favorable material conditions.
Meanwhile, Eric submitted his application through competition at: the CNRS, the CNAP (National Council of Astronomers and physicists, positions of the Ministry of Higher Education in astrophysics and geophysics, with an observation service), the University (Lecturer)…
The return to France
Eric returned to France in the 2007 autumn with a postdoc at the CNES (National Center for Space Studies) and a research grant at Orsay, joining thus his former group.
Regarding housing, as in London, it was not easy, "with no recent history of employment in France, without a permanent contract and with a salary of not more than 3 or 4 times the rent .. . so I finally found one with the help of the Science Accueil Association which aims to facilitate the welcome of foreign researchers.
After a year, in 2008, Eric will join the CNRS (National Centre for Scientific Research) at the Institute of Space Astrophysics following a competition and as a permanent researcher. "This is a better solution for research".
And if you had to do it all again? 
"Yes. It was really good. But I was very lucky because I didn't have precarious contracts during a too long period as I was recruited by the CNRS. A too long period abroad can also make the return more difficult by loss of contacts in the origin country. There are pros and cons. Pursue this kind of experience was quite complicated because I also met my wife in Greece at the beginning of my first postdoc. Four years is the typical duration of a postdoc till recruitment on a permanent position in my research field".
But if you have had the opportunity to get a permanent job for example, in the U.S. or Italy? "Yes, why not. I was not really resolved to return to France, but it was for me the best solution".
Which advice would you give to a PhD student, a young researcher?
If the period of temporary contracts is too long, do not hesitate to do anything else than research, using other skills you have acquired. Be prepared to adapt.
A few words about the Marie Curie Fellows Association?

Eric joined this Association, created in 1996 under the leadership of the European Commission, while he was Marie Curie Fellow, in Florence. This is primarily an international and multidisciplinary network of mobile researchers. Its objective is to enable its members to help each other to deal with administrative problems, maintain contacts, identify and communicate problems such as those related to funding files. For example, we can remind our members that the Marie Curie mobility grant is not taxable in France, what tax authorities often forget ... ".
More information about ABG?
Get ABG's monthly newsletters including news, job offers, grants & fellowships and a selection of relevant events…
They trusted us