Recruitment and career development of PhD-holders
Association Bernard Gregory
Training
Pursue a doctorate or not. Identify and promote one's competencies. Prepare for a career move. Supervise doctoral candidates.  Whatever the challenge you're facing, ABG helps you to take it up.
AvanThèse®
Should I do a PhD? That is the question, and it is best to know your answer to it before making a three-year commitment or giving up due to a lack of information!
Capitalizing on the Experience of Doctors in Enterprise (EDEn)
It is therefore essential that each PhD student take a step back and learn to communicate effectively about his or her experience, skills and successes. The EDEn program (Valorisation of the Doctoral Experience in Business) was designed specifically to support doctoral students in their professional development.
Formation à l'encadrement
Management skills improve with experience, but they must be built on solid foundations. This training session is therefore designed to work with participants on defining the principles and practices that will give meaning to their supervisory role.
Full catalog
Order training
With innovation as a pillar of our approach, we regularly develop new training content and design tailor-made training programs in response to the needs of businesses, research organizations and institutes of higher learning. Contact us!
Order
News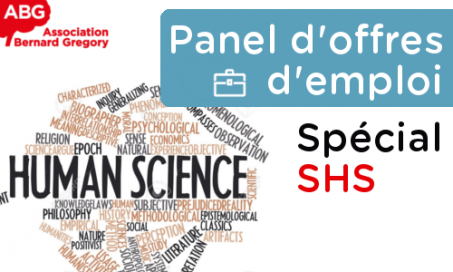 09/02/20
En ce moment sur notre job board, de nombreuses offres d'emploi dédiées au public des docteurs en sciences humaines et sociales (SHS).
Découvrez-les toutes dans cet article... mais surtout si l'une (ou plusieurs) d'entre elles vous conviennent, candidatez !
Event
23/01/20
L'After Doc' SHS revient pour sa 3e édition, accueillie par l'agence InProcess... Inscrivez-vous !
Calls for applications
10/02/20
CIFRE à la Ville de Paris : des doctorant.e.s au cœur de l'action municipale
Event
17/12/19
Team-up for Startup #HealthTech, by l'Institut Pasteur
News
ABG
Since our founding in 1980, ABG has worked to promote the career development of PhD-holders, the innovative capacities of businesses, and to capture the value of skills acquired through training in research.
More information?
Get ABG's monthly newsletters including news, job offers, grants & fellowships and a selection of relevant events…
They trusted us