Training programs
Announcement for training programs.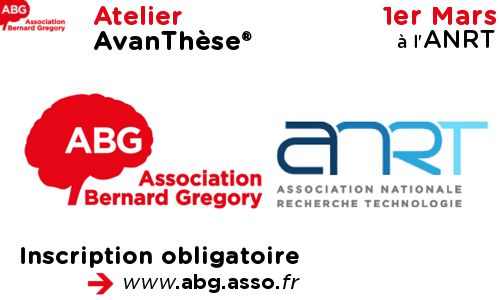 Vous êtes étudiant de master ou élève-ingénieur et vous vous interrogez sur la pertinence de poursuivre en doctorat ? Participez à la prochaine session de l'atelier AvanThèse® proposée par l'Association Bernard Gregory en partenariat avec l'ANRT, l'association qui gère et anime le dispositif Cifre du MESRI.
Elle se tiendra le 1er mars 2019, de 13h30 à 17h30 à l'ANRT (33 Rue Rennequin, 75017 Paris)
Are you supervising doctoral candidates and interested in consolidating the principles and practices turning your management activity into something meaningful? ABG is organising a training course in Paris on 23 and 24 April 2019 from 9 am to 5:30 pm.
You a doctoral candidate or a PhD ? You are looking for a job, or will be soon and you are in need for effective communication tools ? What if the best way to learn was by playing ? ABG organizes a training session (by videoconference) on january the 29th, from 9.30 am to 12.30 pm. Register now!
(THIS SESSION WILL BE HELD N FRENCH LANGUAGE)
More information about ABG?
Get ABG's monthly newsletters including news, job offers, grants & fellowships and a selection of relevant events…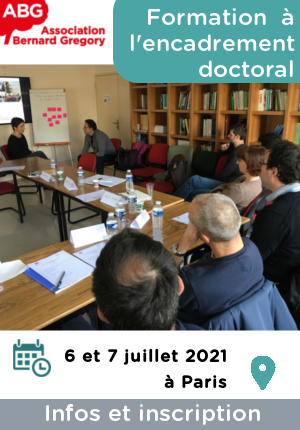 They trusted us