Best Young Energy Storage Scientist Award
Wojciech Lewandowski - Community manager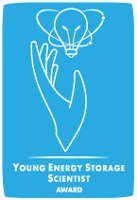 (Pour consulter cet article en français : cliquez ici)

With the best young energy storage scientist award, the RS2Eresearch network decided to support young scientists at a critical step of their career : the search for a permanent position in the public or private sector and the installation to such a position often requires important financial resources (travel expenses, moving, equipment). That's the reason why the prize money associated with the award is significant : the best project will be granted €10 000.
Participants have to submit an innovative project through an application form of a few pages. The projects can address :
all the field related to electrochemical energy storage
associated characterization techniques
devices coupling an electrochemical energy conversion and storage function.
To give some examples, projects can address issues at a system level (pack, cell, BMS…), at an element level (electrode, electrolyte, current collector...), at a process level etc. The project can be written in French or English.
Timetable :
project submission until

June 30th, 2015

,
deliberation of the jury in July,
award ceremony during the "Batteries 2015" congress in Nice, on

October 7th, 2015

.
> Application form

---
ABG is a French non-profit organization. Our missions are :
To facilitate the transition of PhDs (whatever their field and seniority) from academia to the private sector;
To help companies recruit PhDs.
> Search a job ad or post a job.
Join us on these social networks :
More information about ABG?
Get ABG's monthly newsletters including news, job offers, grants & fellowships and a selection of relevant events…
They trusted us