Thanks to all our awesome Thunderclapers!
Bérénice Kimpe - Responsable coopération internationale
To all the people who supported our « Researchers without borders » campaign in the context of an European call for proposals: a big « thank you »!
On the 1st of August, we launched our « Researchers without borders » campaign on the Thunderclap collaborative platform to reach 100 supports. The purpose was to show to European Commission experts that an event on international mobility could rise interest among the PhDs' community.
On the 11th of August, half-way through the campaign, we had reached 50 supporters: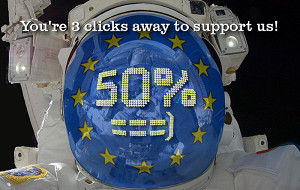 This campaign came to an end on the 23rd of August at noon and unfortunately, we only got 98 supports out of 100.
Even if the goal wasn't reached, we decided to highlight this thunderous mobilisation in our application: after all, getting 98 supports within 3 weeks in the middle of the summer break, moreover on a research-linked thematic, is already some kind of achievement, thanks to you.
We were happy to count on you for this pilot project and that's why we would like to thank you very much for your support, likes and shares on this: it means a lot to us!
Of course we will keep you posted on the outcome of our application, due to happen at the beginning of 2017. So please stay tuned!
---
ABG is a French non-profit organization. Our missions are :
To facilitate the transition of PhDs (whatever their field and seniority) from academia to the private sector;
To help companies recruit PhDs.
> Search a job ad or post a job.
Join us on these social networks :
More information about ABG?
Get ABG's monthly newsletters including news, job offers, grants & fellowships and a selection of relevant events…
They trusted us