Institut Curie international PhD program
Ludovic Fery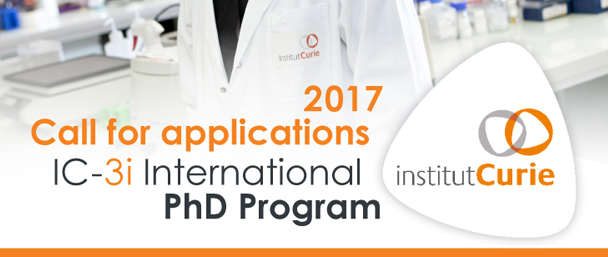 Candidates have until 4 february 2017 included to apply to IC-3i, Institut Curie's international PhD program, co-funded by European Union's Horizon 2020 research and innovation plan.

14 projects among 80 research groups are concerned.
Initiated in 2016, Institut Curie IC-3i international PhD program is renewed in 2017.
Thesis projects available in the call cover Institut Curie's 4 main research axes and its translational department:
Biology and chemistry of radiations, cell signaling and cancer

Biology, cancer, genetics and epigenetics

Integrative tumour biology, immunology and environment

Multiscale physics-biology-chemistry
List of PhD thesis subjects can be consulted at this address: https://ic3iphd.curie.fr/project.php.

Future PhD fellows will carry out their research at Institut Curie's 12 departments and its hospital group in Paris, starting in October 2017.
Interested candidates can send their application online (you will need to create an account) until 5 February 2017, 17:00 CET.
Check eligibility rules for the IC-3i program: http://enseignement.curie.fr/en/content/faq

---
ABG is a French non-profit organization. Our missions are :
To facilitate the transition of PhDs (whatever their field and seniority) from academia to the private sector;
To help companies recruit PhDs.
> Search a job ad or post a job.
Join us on these social networks :
More information about ABG?
Get ABG's monthly newsletters including news, job offers, grants & fellowships and a selection of relevant events…
They trusted us