Forum of the French Researchers in Australia Network (FRAN)
Clarisse Faria-Fortecoëf
An annual event allowing French researchers and business representatives currently working in Australia to meet together and to develop collaborations between both countries in academic and applied research field. In 2014, this Forum will be held on November 18 and 19 in Sydney.

Established in December 2012 by the Embassy of France in Canberra,

FRAN

is
a network which has over 200 members in Australia.
It is open to PhD students jointly supervised, postdocs and researchers under contract based in Australia, but also to active French industries in R&D in this country and to all scientific and technological, economic and social actors wishing to develop research excellence collaborations between both countries. To join the network via the FRAN group on LinkedIn, please click here.

The first Network's Forum was also launched in 2012, at the Australian Academy of Science in Canberra. This event assisted French researchers to present their research, to discuss the differences of the French and Australian research systems and to identify the challenges to help determine the best approach for future bilateral collaboration.
The second Forum was held in Melbourne in December 2013, in partnership with the Chamber of Commerce and Industry French-Australian (FACCI) and focussed on two key themes: "Health" and "Agribusiness". The Forum brought together more than 80 researchers and business representatives and has inspired new collaborative projects between the two groups, a great outcome given the growing desire of the French science and business communities to work together across Australia. Read comments on and after this event on the website of the French Embassy in Australia.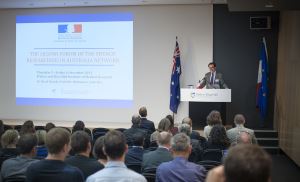 The third FRAN Forum will be held in Sydney on 18 and 19 November 2014. Planned on the sidelines of the G20, it will focus on climate change and align with the themes of the 21st Conference of the Parties (COP) on Climate Change, to be held in Paris in 2015.
Climate change will serve as the overall thematic priority, however the Forum will also address a range of other topics. In particular the second day will focus on the development of connections between researchers and industry across all fields of science.

Contact for further information on this event:
Marie-Hélène Wehr, Attaché for Science and Technology
Email : science.canberra-amba@diplomatie.gouv.fr
More information about ABG?
Get ABG's monthly newsletters including news, job offers, grants & fellowships and a selection of relevant events…
They trusted us