Franco-Mexican Call for Projects: CONACYT - Bpifrance
Clarisse Faria-Fortecoëf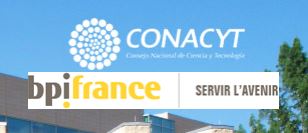 An opportunity for

French and Mexican companies

to develop innovative technology partnership projects. The

application deadline

initially scheduled for November 28, 2014 has been postponed to February 13, 2015.
This call for proposals is part of the agreement signed in 2009 and renewed in 2012 between the National Council of Science and Technology (CONACYT) and Bpifrance.

Every year, these both organizations finance technological partnership projects between at least one French company and a Mexican company. 11 projects have been funded since 2010

.



All themes are concerned, but special attention will be given to the following areas

:

Health,

Energy,

Company (environment, smart city, clean technologies, urban development, transportation, communication, security),

Aeronautics, aerospace, satellite, unmanned aerial vehicle (UAV),

Information and Communications Technology.
Selected projects will be financed by Bpifrance, through Adici (Aide au Développement de l'Innovation en Collaboration Internationale / Support for the development of innovation through international collaboration) support and by the CONACYT which has allocated to this program, a budget of 2 million of euros for 2014.

French Industrials or applicants are invited to submit an outline of their project by completing the "Project outline" form available on Bpifrance's website. The form signed by both partners (French and Mexican) is then to be sent to:

Ineke Petit – (Innovation Management)
E-mail : ineke.petit@bpifrance.fr

Furthermore,

project's intentions (project outline) may be submitted by those who wish before the closing date

(02/13/2015) in order to verify their eligibility and benefit from advice on putting up their French-Mexican cooperation. It is also possible for SMEs and companies with fewer than 2,000 employees to apply for a technology partnership support (APT - Aide au Partenariat Technologique).

For its part, the Mexican partner must follow the procedure on the CONACYT's website.
More information about ABG?
Get ABG's monthly newsletters including news, job offers, grants & fellowships and a selection of relevant events…
They trusted us