Networking or Not Working, it's up to you!
Hervé Bommelaer is an outplacement consultant at Enjeux Dirigeants. For many years, he has been assisting senior executives in their professional repositioning.
He is the author of seven books on networking, including "Trouver le bon job grâce au Réseau (Finding the right job through networking)" and "Recherche d'emploi - conseils des pros (Job Search – Advice from Professionals)" (Eyrolles).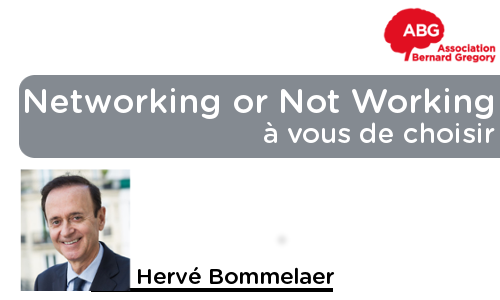 By Hervé Bommelaer
The Network is not for me.
The Network, I don't know how to use it.
The Network means string-pulling.
The Network is the mafia.
The Network is for very experienced people.
I don't have a Network.
At first glance, there are many good reasons not to network in your professional career.
In reality, these good reasons are bad excuses. And the worst mistake you can make today, whatever you are a PhD candidate or a PhD, would be precisely not to use professional Networking!
Finding the right job through the Network
In the job search process, the Network is the safest way to achieve your goal. But this approach cannot be improvised, it requires professionalism.
Activating your network to find a job is an art and a technique. It is based on ten pillars:
1- Learn about the Networking process.
2- Have a clear and achievable career plan.
3- Identify specific targets: research laboratories, organisations or companies.
4- Know how to go beyond your direct connections to access the second and third circles, i.e. meet people you don't know.
5- Recommendation is the ultimate weapon that will allow you to meet whoever you want; use it.
6- Ask for what others are able to give you: advice, information, never a job.
7- Learn and implement basic techniques to make connection: email and network call.
8- Know how to conduct Networking meetings to get names of new people to contact.
9- Follow up carefully on your connections and avoid "single-use network".
10- Be assiduous, be determined, be disciplined, be active and persevering.
If you are looking for an internship or a job, go ahead and try the Network because it is a little-known tool and therefore your "competitors" on the job market will be less likely to use it. If you want to leave academia for the socio-economic world, you will be seeking information and advice, so your effort to network will be considered totally legitimate. To do this, target the alumni of your school/university, your classmates' parents and contacts and use the services of Association Bernard Gregory.
ABG can offer you training or support to prepare your networking approach, to be more visible on social networks, to prepare your pitch or to have a better understanding of how companies work. It also organizes ApéroDocs in the evening, where doctoral candidates/holders and professionals can discuss informally.
The Network: a privileged tool once you start working
Your employer regularly reviews the contribution of each of its employees. Yet, studies clearly show that, when employees with equal experience are compared, it is the ones with the best network in the company who are most likely to be promoted! This is an excellent reason to work on your networking internally. Be present in seminars, working groups, informal meetings, at the coffee machine and take a sincere interest in others.
At the same time, it is also strongly recommended to be active and visible in your external network. Not only in your first circle i.e. within people you know closely but also and especially in the larger circle of "weak ties", that is to say all those people you know and who know you, but whom you do not see regularly. It is these more distant connections that, when reactivated, give the best ideas, collect the right information and reveal the most interesting opportunities.
In addition, don't get stuck in your "clone network", try to generate new professional encounters and create lasting solidarity. To this end, it is essential to professionalize your networking approach. To do this, clarify your objectives, map your network, define your strategy and take action! And don't forget to join alumni associations and professional groups.
Finally, never have lunch alone. And above all, don't always eat with the same people! Take advantage of your lunches to meet colleagues, journalists, former colleagues, people who can give you information and advice, etc. You have 5 lunches a week, or 250 lunches a year when you take the holidays off. This means that you have 250 opportunities to meet people during the year without it taking you more time than you used to do before. The network you build while you are working is your best insurance against unemployment. Don't neglect it.
Entrepreneur: never without my network
If, at some point in your career, you start a business, do not embark on this adventure without having a solid network to support you and your start-up project. Since the young entrepreneur is often alone and must face all the responsibilities of the company manager, it is important to be well surrounded in this take-off phase.
In addition, do not create your company if you do not have the appetite and skills for networking for business since it is through your connections - and through the connections of your connections - that you will probably find your first contracts.
Beware of toxic people
Overall, by networking, you meet or reunite with benevolent people. These individuals will take pleasure in helping you if you ask them for something they can give you, such as advice and information. But from time to time, you will come across a toxic individual.
The "toxic" is the professional - a friend, a peer or a stranger - who will explain to you that it's over and things will never work out for you. This person is dangerous because he can ruin your morale and make you doubt yourself. If you meet this type of harmful person, run away and don't listen to him.
In short, whether you are looking for a job, currently on the job or starting up a business, you have two choices: Networking or Not Working.
More information about ABG?
Get ABG's monthly newsletters including news, job offers, grants & fellowships and a selection of relevant events…
They trusted us