Alejandra MEDINA: from a PhD in Finance to the OECD
During the last Post-Doctoriales seminar organized by ABG and the City of Paris, Alejandra MEDINA told us about her experience. From her PhD in Finance to the OECD (Organization for Economic Cooperation and Development), she looks back at her career and gives some advice for those interested in working for intergovernmental and international organizations.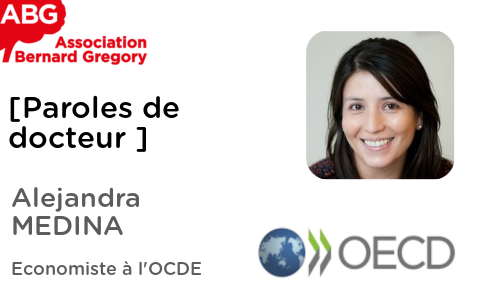 Alejandra Medina works as a Financial Economist at the OECD. Originally from Chile, she worked as an Investment Analyst and Corporate Bond Trader at a pension fund in Chile, as well as an Economic Advisor to the Minister of Finance, before completing her PhD program in Finance at the University of British Columbia (Canada).

In 2015, before finishing her PhD thesis, she followed a job opportunity at the OCDE in Paris. Shortly after arriving in Paris, she started working on different international projects in various policy areas related to capital markets. Working in the Directorate for Financial and Enterprise Affairs in the Corporate Governance and Corporate Finance Division, Alejandra advises members and non-members countries on policy issues including:
corporate access to finance;
institutional investors;
ownership structure;
market structures.
For those interested in working for an international organisation, Alejandra provides some advice:
Networking is key in your working life. She commented that "keeping good relationships with colleagues, former colleagues, your peers from university and your professors is really important and helpful for your future working life".

Speaking multiple languages can be an asset if you plan to work in an international organization and I would say English is today necessary at the workplace everywhere. At the OECD the requirement is to speak fluently one of the two official languages (English or French) and additional languages could represent an asset in your application.

Even though PhD candidates are used to present their work in front of colleagues, there is a need to become better communicators and to be able to explain your topic in simple words: "When your audience is not academic, or when English is not the native language of your audience, they might not be comfortable with you using technical language. So, my advice is: do not use your field' jargon and do not get technical".

Alejandra added that the previous piece of advice also applies to writing skills that must be adapted from academia to the audience you are communicating.
Alejandra highlights that the skills and tools that she uses in her current position were gained during her PhD studies, such as :
programming;
statistics;
data management;
data analysis, among others...
Her doctoral training helped her acquire expertise in a specific areas that she can now use to advise policy makers on how to create better policies for their country. Studying abroad also helped her working with colleagues from different parts of the world and at the OECD she has learned also how to engage with a variety of international stakeholders.
The opinion presented here represents personal views and should not be reported as representing the official views of the OECD or of its member countries.