PhDs' voices: doctoral mobility to the UK following Brexit
Mathilde Maillard takes a look back at her experience of mobility to the United Kingdom, during her third year of doctoral studies. A stay of 4 months during which she was hosted by the laboratory CASC (Centre for Advanced Structural Ceramics) of Imperial College London.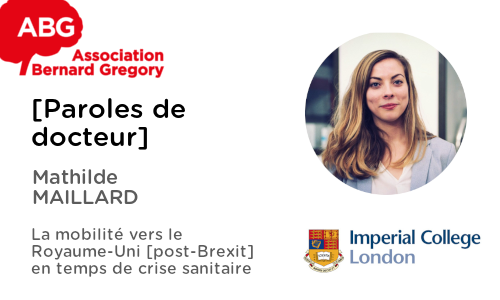 What were your motivations for going abroad? Why did you choose the UK at this particular time? Why Imperial College?
Having had a university career, during which I did not take advantage of the Erasmus program, I often regretted not having experienced an adventure abroad. This is why, after returning from an international conference during my first year of doctoral studies, I asked my managers about the possibility of considering a research stay in a foreign laboratory. They answered "yes", because the European Ceramics Association had funds dedicated to mobility projects. I then selected a London laboratory, a pioneer in my field, where I had the opportunity to "take the temperature" following a summer school I attended there. I then began negotiations with researchers from this laboratory (CASC). We agreed on a three-month stay in the spring of 2020 (during my second year), at the beginning of the pandemic. The project was already well underway and I had personally made arrangements to leave France, so we decided to maintain the stay, but postpone it to September.
BREXIT also posed its share of problems since the UK, by leaving the Erasmus program, had to review its entire tuition policy. It was very complicated to leave in the fall of 2020 because we did not have a clear picture of the administrative requirements to reside in the UK as a student. So we chose to wait until January. At that time, at the end of my third year, I felt that it was not necessarily the best thing to do, but I did not want to abandon this project which was already too far advanced. This mobility project turned out to be more difficult to implement than expected, because of the administrative red tape (upstream and on site to access the laboratory facilities) and the fact that I could not return to France. Fortunately, I was very well supervised and accompanied by the students of the laboratory who were very welcoming and who gave me their help on many occasions.
What was the objective of your mobility project? How long did this experience last? How did you prepare your project? How did you finance it? How did the recruitment go?
The initial project consisted of making ceramic multi-materials by additive manufacturing using a method developed at Imperial College London. I wanted to improve my English while benefiting from a different scientific framework, in order to broaden my knowledge and enrich my skills. This experience, initially planned to last 3 months, finally lasted 4 months and a half and was financed by a mobility grant obtained by the JECS as well as a financial part of my ANR project. The project was set up with a team from Imperial College London, the CASC, in which Dr. Florian Bouville, who did his PhD in the MATEIS laboratory, has recently been working. My thesis director also knows the director of the laboratory, which facilitated the exchanges. However, with the support of JECS and the help of the young ceramists network, it would have been possible to join another laboratory.
Let's now address the question of obstacles, especially administrative and logistical ones (the ones we think of at first sight). It seems that you have met some obstacles on the way... Tell us about your journey!
For the record, it took me a month and 3 weeks to get full access to my laboratory. It was necessary to fill out many forms, and to contact several people in a very specific order (which I had absolutely not understood). I had also chosen to ship my personal belongings via DHL because, leaving for several months, a small suitcase was not enough. The result: my personal computer arrived defective, and my things were held up at customs (due to the consequences of BREXIT) and were only returned to me for a large sum of money. Finally, the most complicated part was the access to certain installations and experimental material. I had to be systematically accompanied by a permanent student when I wanted to conduct experiments.
I strongly recommend avoiding mobility to the UK for the time being. Perhaps it is necessary to wait and see how the new school year will be managed. Moreover, it is not a scoop, but London is a city where life is extremely expensive. So even with my scholarship, the end of my stay became financially complicated!

Did your laboratory/Doctoral School/University help you?
My laboratory was very present, especially the superb management team, and of course my thesis directors. The Doctoral School refused to help me financially because the mobility was "too long", and the whole mobility project was organized without involving the Universities to which the laboratories are attached.
What about the difficulties linked to the Covid-19? At the departure / travel / arrival / on site? Tell us about it...
The constraints linked to the Covid were mainly in the form of the papers required on the way out, as well as on the way back. For the return trip, I chose to drive back home in order to limit my expenses and other shipping damages on my personal belongings. None of this was easy. Finally, the fact of not being able to return frequently to Paris via the Eurostar (however so practical and fast) proved to be a limiting factor on a personal level.
We always think that the grass is greener on the other side but finally, we never realize what we have on a daily basis. This mobility experience, enriching but difficult, allowed me to become aware of and appreciate even more the human qualities of my colleagues, as well as the scientific level of my laboratory in France.
Find out more
More information about ABG?
Get ABG's monthly newsletters including news, job offers, grants & fellowships and a selection of relevant events…
They trusted us