Floriane LACOUR joins our Corporate Relations, Partnerships and Recruitment Department
Following the departure of Christine Bachelin, we have the pleasure of welcoming Floriane Lacour as Corporate Relations, Partnerships and Recruitment Officer. We welcome her and invite you to discover her career path, her commitments and her goals in this article.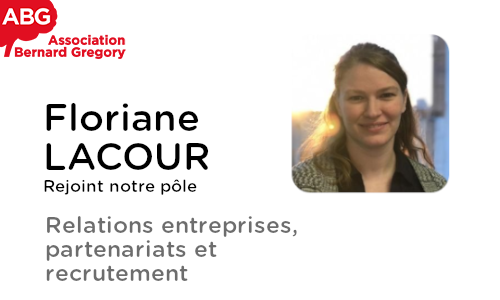 Floriane holds a PhD in cellular and molecular biology from the Université Descartes, which she completed at the Institut Cochin and the Institut de Myologie (Paris). During her PhD, she was involved in several associations of young researchers and organized many professional breakfasts (meetings between young researchers and professionals), which allowed her to show her peers the different professional evolutions possible after an academic research career.
Between 2016 and 2018, she successively held the positions of Sales Manager, Research Officer and Science Communications Officer, in addition to volunteer experience with ABG. She then joined the association Vaincre la Mucoviscidose as a scientific project manager, where she participated in scientific communication, financial support for research, as well as being involved in the organization of the scientific community. In short, she was committed to revitalizing the network of researchers working on cystic fibrosis, and to facilitating their access to scientific information.
Her experiences within different organisations (private sector, economic interest group, non-profit sector) have all confirmed the need to highlight the skills acquired during a PhD.
Floriane is very keen to promote PhDs, and to highlight the added value and the place of PhD holders in society, especially to recruiters in the socio-economic sector. In order to dedicate herself to this task, in particular by developing the recruitment activity under the responsibility of Dr Laurence Friteau, she joins the ABG's Corporate Relations, Partnerships and Recruitment Department.
Floriane Lacour: Corporate relations, partnerships and recruitment officer joins us on March 21, 2022 and can be reached at floriane.lacour@abg.asso.fr.
More information about ABG?
Get ABG's monthly newsletters including news, job offers, grants & fellowships and a selection of relevant events…
They trusted us