Is mobility the key to success?
Clarisse Faria-Fortecoëf
Research Associate at the Université Paul Sabatier, Toulouse (France), Spiros Kitsinelis worked in England, Japan, Netherlands and Greece.

On the occasion of the European workshop on strategies and best practices that foster researchers' mobility, organized by the ABG, the British Council and the UFA (Franco-German University) at the MEDEF (national confederation of French employers) and the IHA (German History Institute) in Paris on 3 and 4 June 2013, Spiros Kitsinelis was invited to talk about his experience of mobility.

Physical chemist and researcher, Spiros received a Master's degree and a Ph.D. from the University of Sheffield in England where he stayed from 1995 to 2003. He will then worked as a post-doctoral fellow at Ehime University in Japan. In 2005, his research led him to the central laboratories of Philips Lighting in Eindhoven (Netherlands). When he returned to Greece, in 2006, he started a research programme at the National Technical University of Athens before being recruited as a research associate at Paul Sabatier University in Toulouse in the south of France.

Furthermore, his research work includes numerous publications in journals and international conferences, as well as a number of patents. His science communication activities began after his participation in an international science communication competition, FameLab. He became the first Greek winner to be awarded first prize by both judging committee and audience. Since then he has been writing and presenting to the general public a wide range of topics in numerous ways that include science theatre, debates, talks, articles in magazines, film festivals and books.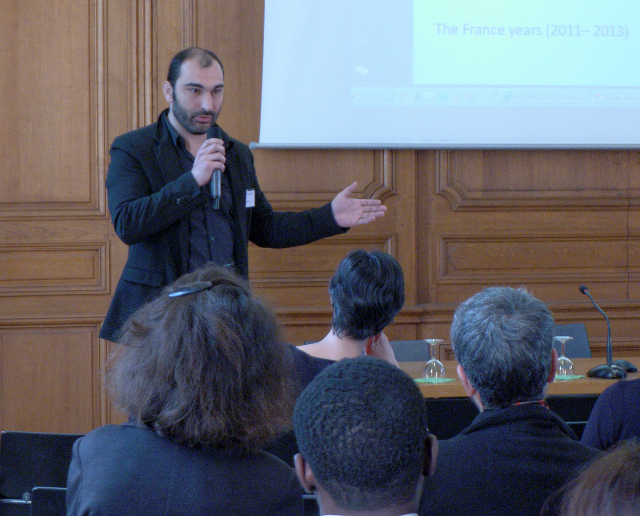 After a description of his international experience and activities in the various countries, Spiros focused his talk on the following matter:
Is mobility the key to success?
How do you define success?
According to him, it depends on everyone's priorities. For example, "is success a permanent contract and climbing ranks in the same institution or the life and professional experiences gathered from years abroad?".

Sign of the times, mobility means flexibility and has its advantages as well as its disavantages. We are not immune from homesickness. "Detachment from home affairs and connections" is not always easy to live. At the same time, it allows to enrich your CV and increase your social and professional value, to build international connections and collaborations, to adapt to and adopt new protocols, practices, and so on. These are skills that are acquired in a sustainable manner, while difficulties tend to fade over time.

So how to prepare an international experience?

While referring to the difficulties he faced in a particular national context and his specific needs (list of English-speaking researchers in France ...), Spiros gives some advices such as to remain within a network and maintain contacts, visit if possible in advance the destination country and do some language preparation, be informed about the income tax system and the health insurance procedure or yet check with home pension office if years abroad are taking into account and how.

In terms of mobility opportunities, one can find many announcements in media, funding means for example, in the framework of Marie Curie Actions or in the case of Japan, the programme of the Japan Society for the Promotion of Science (JSPS ).

In addition to his presentation downloadable herebelow, you can visit the personal website of Spiros where you will find his various publications such as the book "The Art of Science Communication" which discusses various ways of communicating scientifique and technical ideas to a range of audiences.

More information about ABG?
Get ABG's monthly newsletters including news, job offers, grants & fellowships and a selection of relevant events…
They trusted us