Jeunes Chercheurs dans la Cité
Clarisse Faria-Fortecoëf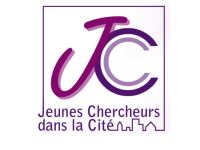 A series of Franco-Belgian conferences

which aims to facilitate the meeting between the general public and PhD students in Humanities and Social Sciences.

In 2014, for its fifth edition, the event will be held in Lille in October and in Brussels in November

.
"Jeunes Chercheurs dans la Cité" (Young Researchers in the City) is a festival which has held since 2008, a project resulting from a close collaboration between Lille and Brussels universities.





All the lectures and debates taking place in the city, outside the university, in places dedicated to culture, transmission or popular entertainment. This project aims to promote research through plural territories, multiple audiences and topics for the discovery and public debates.

The 2014 event program will be available soon, but in the meanwhile, and to get a better idea of the proposed activities, you can already see the content of previous editions, such as that which took place during the spring of 2013.

For more information, please contact "Jeunes Chercheurs dans la Cité" by e-mail or on their Facebook page.

More information about ABG?
Get ABG's monthly newsletters including news, job offers, grants & fellowships and a selection of relevant events…
They trusted us