Big Chill on the public science in Canada
Clarisse Faria-Fortecoëf
A 2013 major survey shows that 90% of federal government scientists feel they are not allowed to speak freely to the media about the work they do.
Between June 5 and 19, 2013, invitations to participate in an online survey on science and the federal public service (conducted by the Environics Research Group) were sent to

15,398 federal scientists

who are members of the Professional Institute of the Public Service of Canada (PIPSC). 4,069 of them participated in this survey.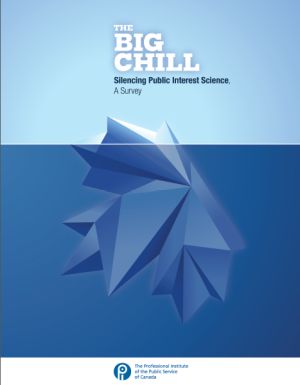 This survey whose results have just been published in the report «

The Big Chill – Silencing Public Interest Science

», is the first extensive effort to gauge the scale and impact of "muzzling" and « political interference » among federal scientists since the Harper government introduced communications policies requiring them to seek approval before being interviewed by journalists.
Thus, faced with a departmental decision or action that could harm public health, safety or the environment, 86% of federal scientists do not think they could freely share their concerns with the public or media. 74% of them believe the sharing of government science findings with the public has become too restricted over the past five years and seven out of 10 federal scientists (71%) think Canada's ability to develop policy, law and programs based on scientific evidence has been compromised by political interference.

Survey's results are considered accurate + or - 1.6%, 19 times out of 20.
More information about ABG?
Get ABG's monthly newsletters including news, job offers, grants & fellowships and a selection of relevant events…
They trusted us