Living and working in Quebec...
Clarisse Faria-Fortecoëf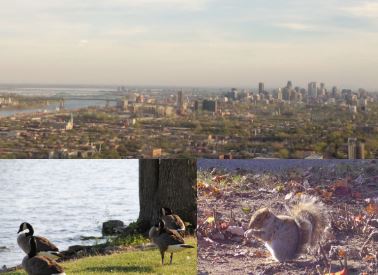 This is the objective of

Virginie Barrère

who after an Engineering degree in Microbiology and Food Security in 2008 at the

ESIAB (Ecole Supérieure d'Ingénieurs en Agroalimentaire de Bretagne atlantique)

in Brest (France), a PhD at McGill University in Montreal in 2013 followed by a postdoc in 2013/2014 at Health Canada.

How did you get the opportunity to go to Canada?



During her last year of Engineering School,

Virginie Barrère

began seeking a PhD in English as having

"more value for an international career"

. She thus applied for more than a hundred job offers posted by universities, research centers or by ABG in different countries like Australia, New Zealand, the US or the UK. She found finally in Quebec, a Supervisor (Principal Investigator) in a laboratory of the Institute of Parasitology at McGill University (40 km from Montreal).

"So I did not really choose to go there. I just seized this opportunity"

.

An opportunity also, in financing terms. She thus obtained on the one hand, a support from her host laboratory and a price from the McGill university and on the other hand, a fellowship from the Ministry for agriculture, fisheries and food of Quebec in the framework of the

PSIA program (Support Program for Agri-Food Innovation)

, which is part of the "Cultivons l'avenir" (Growing Forward) agreement

.

Some words about your PhD and this experience or mobility?

The thesis in Veterinary Parasitology, entitled "Detection of drug resistance in the sheep nematode Haemonchus contortus,"is based mainly as explained Virginie, on the detection of genetic markers for resistance to wormers. In other words, "the issue is to compare genomes of parasites resistant to one drug and parasites genomes sensitive to the same drug. I worked on the first category (scientific patent). With the markers that we already knew, I established field studies to go to test them. Parasites are in the animal's stomach and produce eggs that we found in animals' feces. So, I proposed to sheep farmers to test the diagnostic tool in their farm by applying genetic testing on the parasites eggs. In case of resistance alleles on eggs, we assume that parasites which produced them are also resistant. Through the test, it is possible to know before using a dewormer if it will work"

.



Virginie left France for Canada with a study visa. To obtain such a visa,

"it's quite simple, you need a registration in a Canadian university - in my case, McGill University - a funding evidence and then submit an application to the Canadian Embassy in Paris, which can be done through Internet"

. Further information. As she explains, it is also possible to go to the country with a temporary work permit (PVT) or a permanent resident visa. Virginie got this latter after 18 months of procedure. One can find all relevant information on the different kinds of visa on the website of Immigration Canada. The application can be made from France. Among criteria: age, education level, visited countries... Furthermore, there is the work visa, but to get it, an employment evidence is required.

For the other administrative procedures, health insurance adhesion for example, it is quite easy for students thanks to the France-Quebec protocol. For more information, please see the French website, amelie.fr.



"Globally, life is definitely very pleasant in Montreal. The climate is not so hard. -35 ° C degrees in winter is not a real problem with appropriate clothes and boots"

.
Virginie chose thus to stay there. After her PhD, she worked in the framework of a post doc at Health Canada, a government institution, within their scientific research team.



And today, what are your prospects?





"After my postdoc, I wanted to leave the pipettes' world and to do something other than research"

. Virginie was thus hired as project manager by researchers team of the Montreal University with whom she worked during her doctorate.
As it is a part-time contract, renewable every 3 months and stopping in 2016 (end of the project), Virginie has been looking for job opportunities for six months now, particularly on Emploi Quebec, but also on other websites or supports.

But in the country's economic context and the situation of some activity sectors such as Health (budget decrease, etc.), there is currently no real interesting prospects in Quebec for PhDs or more precisely which correspond to her objectives: a job in scientific communication (journalism) or projects coordination, in government organizations, funding agencies of research projects, knowledge transfer offices, etc.

If Virginie strongly wishes to live and work in Canada, this does not prevent her to watch what is happening on the other side of the Atlantic, she will go "where there is work. I understood that the labor market in France was not very good, but if one visits for example, ABG's or APEC's websites, one can find several vacancies very interesting. I was very surprised to see that, given that the situation isn't at all the same in Montreal! But after talking with some people, the information is disseminated a priori, mainly through contacts, hence the importance of being part of a network ".



What would you say to French PhDs interested in a mobility in Canada and more specially in Quebec?



If Virginie encourages everyone to

"try his/her luck"

, her advice are the following:


Before leaving, you need to have solid job leads (PhD, post doc, etc.)
If you have never worked in Canada, you have to know that there is no financial assistance once you are over there
Be informed in advance on Canadian health system which is not comparable to that of France. This latter is more advantageous and

"one must have lived elsewhere to better appreciate it"

.
Check which kind of visa best suits your situation
Finally, more than an advice, Virginia wishes to make a request:

"once in Quebec, thank you not to compare Quebec to France, it bothers everyone. Then remember that it is YOU who have an accent and not Quebec people"

.


If you wish to follow or contact Virginie Barrère, please visit her scientific vulgarization Blog: Parasites and Cie/ Parasites et compagnie.
She also has a partnership with Biodetectives Blog.


The above comments were collected following the publication of our article on the "Journées Québec" which will be held on

May 30 and 31, 2015 in Paris

.

More information about ABG?
Get ABG's monthly newsletters including news, job offers, grants & fellowships and a selection of relevant events…
They trusted us