Merit scholarship program for foreign students (PBEEE)
Clarisse Faria-Fortecoëf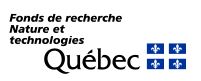 A program intended for foreign students or researchers from all research sectors (health, humanities and social sciences, arts and letters, natural sciences, and engineering) preselected by a Québec university. Application deadline : November 1, 2016.
The Fonds de recherche du Québec – Nature et technologies (FRQNT) is responsible for managing the program. It was commissioned by the Ministère de l'Éducation et de l'Enseignement supérieur du Québec (MEES) which provides the funding.

The objective of the Merit Scholarship Programs for Foreign Students (PBEEE) is to support the internationalization of research activities in Québec's institutions of higher education, to attract the best foreign researchers and students, and to promote Québec universities and College Centers for the Transfer of Technologies (CCTT), abroad.

This program has

three components

:

Doctoral research scholarships : $25,000 a year for a duration of three years, with a possible extension of up to 12 months (monthly allowance of $1,000).

Postdoctoral scholarships

: $35,000 for one year (cannot be renewed).

Short-term research or professional development scholarships

: $3,000 a month for a period of up to four months.
> The PBEEE program on the FRQNT's website
More information about ABG?
Get ABG's monthly newsletters including news, job offers, grants & fellowships and a selection of relevant events…
They trusted us