Marc de Montalembert Prize
Clarisse Faria-Fortecoëf

The Marc de Montalembert Foundation and the French Institut national d'histoire de l'art (INHA) have formed a partnership to sponsor the Marc de Montalembert Prize of 8,000 euros. The Foundation will also offer the grant holder the possibility of a residenceship at its headquarters in Rhodes, Greece. Application deadline: from octobre 3 to November 30, 2016.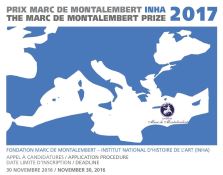 Awarded each year to an art history research scholar of the Mediterranean region, the purpose of the prize is to make possible the achievement of a research project representing an original contribution to the knowledge of arts, culture of the Mediterranean world.

To be eligible, the candidate must come from a country bordering on the Mediterranean, be less than 35 years old the year the prize is awarded, be able to prove an academic level equal to a Ph.D.
Carried out over a period of one year, the project will comprise first a month in Paris as a visiting scholar of the Institute, and, upon completion of the project, a second stay in Paris during which the result of the grant holder's work will be presented to a selected public. The cost of both trips and living expenses incurred will be covered jointly by the Foundation and the Institute. The grant holder will receive the benefit of tutorial counsel from a member of the Institute's academic staff with whom (s)he will stay in touch for the duration of the project. The result of his(er) work will be published in an appropriate form with the help of the Institute.
Applications will be accepted no later than November 30, 2016

, either directly online on the INHA's website or through postal mail.
Mailing Address:
Institut national d'histoire de l'art
Département des Études et de la Recherche
Prix Marc de Montalembert 2017
2, rue Vivienne
75002 Paris (France)
Contact

:
Secretariat of the Department of Study and Research :
Phone : +33(0)1 47 03 85 81
E-mail:
der-dir@inha.fr
For further information:
INHA – Prix Marc de Montalembert
Fondation Marc de Montalembert
More information about ABG?
Get ABG's monthly newsletters including news, job offers, grants & fellowships and a selection of relevant events…
They trusted us