Some information on biology research programs in Germany
Bérénice Kimpe
Have you ever thought about doing your doctorate in Germany? Are you looking for some postdoctoral opportunities? Check out this post and find some useful links to international PhD and postdoctoral programs!
For a start, some facts on German research: 750 public-funded research institutes, around 100 research networks and clusters, 535,000 staff in R&D (full-time equivalent) of which 59% are scientific staff… Not so easy to find the right program!
Foreign researchers in life sciences are more than welcome in the main German research institutes (Fraunhofer Gesellschaft, Helmholtz-Gemeinschaft, Leibniz-Gemeinschaft, Max-Planck-Institutes). Depending on the kind of your research (applied or basic), you will choose the right institute for your project. If your research project is basic oriented, it's not worth a try to apply at the Fraunhofer Gesellschaft which is strongly industry oriented.
The main research institutes according to the funding and the kind of research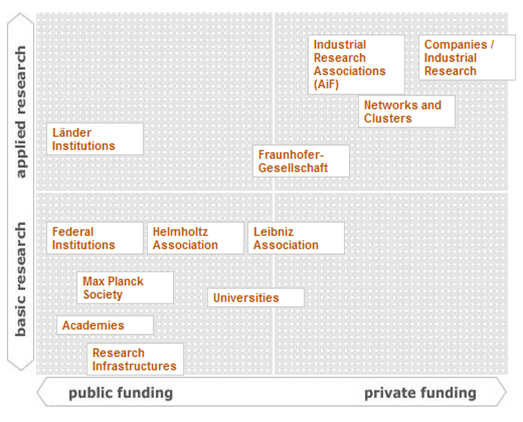 To help you get an overview of existing programs in life sciences, we have selected some research institutes offering international doctoral and postdoctoral programs.
1. Focus on Dresden International PhD Program
It's a joint project between Dresden International Graduate School for Biomedicine and Bioengineering and IMPRS for Cell, Developmental and Systems Biology. In the first program year, a predoc course is mandatory that covers all the research topics of both partners:
- cell, developmental and systems biology
- regenerative medicine
- molecular bioengineering and biophysics
Moreover, other optional courses are offered in terms of personal and professional development: advanced scientific courses, presentation skills, career planning, time management…
Selection for the program 2014 is running! November 17th is the registration deadline. Interviews will be held between February 3rd and 7th.
Contact : Dr Birgit Knepper-Nicolai
Tel. : (+49) 351 210 2697
phd@mpi-cbg.de


www.imprs-celldevosys.de
2. Focus on DKFZ (research center on cancer)
DKFZ is the largest biomedical research institute with over 2,000 staff (850 scientists) and a former scientific director as a Nobel Laureate in Medicine (2008). The center has 7 research programs:
- cell biology and tumor biology
- structural and functional genomics
- cancer risk factors and prevention
- tumor immunology
- imaging and radiooncology
- infection and cancer
- translational cancer research
DKFZ offers a doctoral program with a 3-year funding. Participants are supervised by senior scientists and can benefit from scientific and non-scientific activities: integration week, international conferences, soft skills enhancement, poster session… And for those who can't speak German: language courses.
www.dkfz.de
More info on PhD program

:
higs@dkfz.de
Interested by the postdoctoral program? 10 postdoctoral contracts are offered each year, for a period of two years. Applicants are early-stage researchers whose doctorate isn't older than two years.
Info on postdoctoral opportunities: postdoc@dkfz.de
Good to know : DKFZ and EMBL (see below) are located in Heidelberg, a very nice and cosmopolitan city. Both institutes will be on the Franco-German Career Fair in Strasbourg, from November 21st to 23rd.
3. Focus on EMBL (European Molecular Biology Laboratory)
A specificity of EMBL is its location on five European sites: Heidelberg (DE), Hinxton (GB), Grenoble (FR), Hambourg (DE), Monterotondo (IT). Over 1,400 people from 60 countries and different disciplines (biology, physics, chemistry, IT) are working for the EMBL.
The research topics differ from site to site: bioinformatics (GB), cell biology / biophysics / developmental biology / genome biology (DE), mouse biology (IT), structural and computational biology (FR and DE).
Each year, around 60 PhD students from all over the world are selected for the program. A funding is provided with a grant including social insurances such as health and retirement.
Selection for the program 2014 is running !
Registration online until November 11th.
www.embl.de
4. Focus on Campus Berlin-Buch
It's a techno-park gathering different players in molecular medicine research: 2 research institutes (Max-Delbrück-Centrum für molekulare Medizin and Leibniz-Institut für molekulare Pharmakologie), 1 clinical research center, 54 biotech companies.
www.campus-berlin-buch.de
5. Focus on postdoctoral program DAAD/Roche Diagnostics
You want to give an industrial orientation to your postdoctoral experience? Then you may be interested in the DAAD/Roche program! It's a grant including a monthly allowance of 2,250€, travel costs, health insurance, German course and a relocation help.
The application can be submitted at any time, even by people who have no knowledge in German.
Info

: pharma@daad.de
There are still other doctoral and postdoctoral programs in life sciences. Feel free to contact VBIO, the network of German biologists, to have further information on education and career. If you're looking for funding, check out the database of DAAD to identify funding opportunities according to your country and your discipline.
For any further inquiry, the Franco-German ABG-FGU will be happy to inform you!


Franco-German Branch office ABG-FGU
Bérénice Kimpe
kimpe@dfh-ufa.org
More information about ABG?
Get ABG's monthly newsletters including news, job offers, grants & fellowships and a selection of relevant events…
They trusted us