Samuel-De-Champlain Call for proposals
Clarisse Faria-Fortecoëf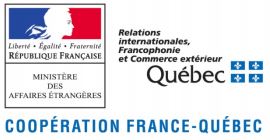 Supported by the CPCFQ (Commission permanente de coopération franco-québécoise), the

Samuel-De-Champlain Program

promotes Franco-Quebec cooperation projects in the field of research, science and technology while ensuring the complementarity of expertise on the priority themes identified by both governments.
Application deadline: September 28, 2014.
Launched every two years,

2015-2016 Call for proposals

covers the following topics:
Renewable Energy, transportation electrification and development of technologies related to smart grids

.

Personalized health care, including genomics. Projects integrating product development more suited and effective according to the genetic profile of each individual.

Research in connection with the Northern Territory.

Creation-Research. Projects led by researchers working in complementarity with creative industries or who help build links between art, technology, science and society.
Mobility support particularly promoted of researchers and students, remains an extra funding which does not replace that granted by other institutions.

You can find all useful information (only available in French) on the website of the General Consulate of France in Quebec or the page of the Samuel-De-Champlain program on the website of the Ministry of International Relations and Francophonie.
---
ABG is a French non-profit organization. Our missions are :
To facilitate the transition of PhDs (whatever their field and seniority) from academia to the private sector;
To help companies recruit PhDs.
> Search a job ad or post a job.
Join us on these social networks :
More information about ABG?
Get ABG's monthly newsletters including news, job offers, grants & fellowships and a selection of relevant events…
They trusted us