The FIER-DOC Program of the Network "n + i" in partnership with Arts et Métiers ParisTech, ANRT and Campus France
A better selection as well as a better preparation of the candidates for doctoral programs!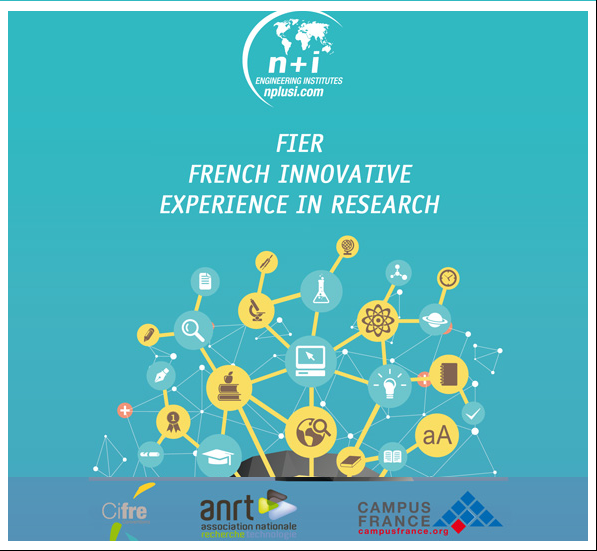 WHAT'S FIER-DOC ?
The FIER-DOC program proposes, after a training seminar of 200 hours focused on the job of researcher, a period of 3 months (April to June 2019), as a research internship for a mutual testing (candidate and lab). The laboratory receives € 2,800 for follow-up. The decision to continue under a doctoral program will be done after a successful FIER-DOC.
The FIER-DOC seminar in France is the same for all candidates (whatever their field). The seminar is organized at Arts et Métiers ParisTech (AMPT).
Throughout this stage, support will be provided by an "n + i" representative.
How to become a partner?
Directors, Managers of labs may consult the web site to fill on-line its form of identification and to accept the conditions (in particular the non-disclosure commitment CNIL (NATIONAL COMMISSION FOR INFORMATION TECHNOLOGY AND CIVIL LIBERTIES)).
The Network "n+i" will then get in touch with them for check and will send them by e-mail the personal ID to access the database of files (cases). At their request, the network "n+i" can send other login to people, appointed by them, who participate in the process of selection (power of proposal).
They can consult from now on the list of the online candidates. The Network "n+i" takes care besides: information of the student, the release of its financing, sending of documents for the obtaining of the visa, the preparation of the welcome … They can also propose PhD funding after a successful FIER-DOC!
Contact
More information about ABG?
Get ABG's monthly newsletters including news, job offers, grants & fellowships and a selection of relevant events…
They trusted us