The InnovDoc initiative by the University of Grenoble Alpes: from a PhD to working for a company
Interview by Ouissame Benfaida (communication) and Bérénice Kimpe (Head of International Department)
InnovDoc is a company made up of a team of doctoral students from the Grenoble Alpes University Community willing to have a corporate experience near the end of their doctorate. The long term gaol : bringing companies and research closer together by missionning doctoral candidates as experts in companies.
Read more on this initiative, as well as of the InnovDoctors, who benefited from the iniitiative...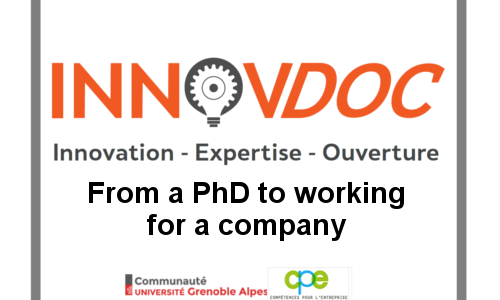 Author: InnovDoc team
---
A field for learning and practicing skills
InnovDoc Experience: an asset in their job search
Testimonies: let's hear InnovDocteurs!
---
InnovDoc is a junior company created and supervised by the University of Grenoble-Alpes, as part of the Research for Enterprise and Innovation (REI) training label. It offers services to companies. Its approach is simple: integrate doctoral candidates, from the second year onwards, with several objectives:
to introduce companies to the skills that a researcher acquires during the PhD experience;

to develop transversal skills and soft skills for doctoral candidates, in order to facilitate their access to employment in the private sector;

in the longer term, to bring companies and research closer together.
InnovDoc relies above all on the people who make up its team: PhD candidates from all fields of science, from physics to languages, literature, geology and biology. This diversity makes it possible to address companies operating in just as varied fields and also allows doctoral candidates to "break the ice" and connect directly with companies.
These contacts lead to:
company visits;
short-term missions within them.
For example, a doctoral candidate in the field of human and social sciences was able to carry out a consulting mission in order to update a company's website and thus improve its brand image. Another example was the translation of data sheets and patents for an international company in the field of chemistry.
Beyond the commercial aspect, InnovDoc is a real springboard for training and skills development. It is an opportunity for all future PhDs to enrich their experience through direct and concrete missions: marketing research, customer approach, service provision. The trainers within the label lead training sessions and support the doctoral candidates in their efforts:
training in telephone solicitation;
contact, at the recruitment interview;
negotiation with customers;
teambuilding ;
project follow-up.
These training sessions provide doctoral candidates with tools and enable them to get in touch with companies, take on problems and carry out projects in an industrial environment.
Developing their network through the InnovDoc experience also means meeting potential future recruiters, and thus laying the first foundations of their job search. All doctoral candidates who carried out a mission for InnovDoc within a company were offered a job offer by the said company at the end of their doctorate.
InnovDoc has also developed a network of InnovDocteurs, making it possible to create an active network of Alumni, who provide:
advice, as well as job search assistance;
conferences (every 2 months), followed by exchanges and sharing of experience.
This Alumni network is regularly updated, a definite advantage in a network approach (canvassing of professionals working in companies).
In February 2019, InnovDoc's staff included about fifty doctoral candidates or InnovDocteurs. Who better than these InnovDocteurs is able to talk about this incentive and its added value? The word is therefore to those who made it happen and who are still doing it today. Here are the testimonies of some InnovDocteurs of yesterday and today: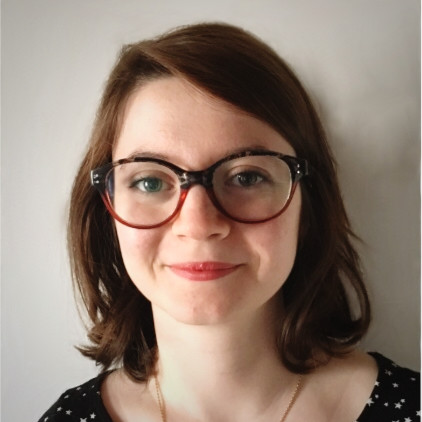 I joined InnovDoc in my second year of my doctoral education. I wanted to meet researchers working in companies to find out more about the possible jobs after the doctorate, about the expectations of industry towards PhDs, but also the main obstacles to hiring PhDs in France.
I decided to join the InnovDoc communication department, in order to participate in forums and promote InnovDoc to industry. This is how I was able to meet PhDs with varied backgrounds, working in structures ranging from start-ups to large groups. I have participated in various forums where I have promoted the work of InnovDocteurs with students and academics, and made the qualities of doctoral candidates known to industry.
These exchanges allowed me to understand that the soft skills developed thanks to the REI label were just as important as my technical skills acquired during the doctorate.
Marion Scohy [doctoral candidate in 3rd year in materials science / InnovDocteur ]
---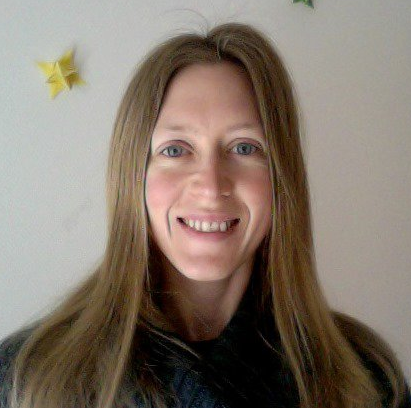 During my doctorate, I took the opportunity to participate in the REI label in order to get closer to the business world. During the implementation of the label, the creation of a junior company emerged as a training tool for doctoral candidates. This is how InnovDoc was born.
Participating in its construction has allowed me to develop my communication skills, to practice customer relations, to confront certain legal issues, while working collaboratively in a dynamic and multidisciplinary team. Also, my activity within the REI label through InnovDoc has allowed me to gain confidence during interviews and to develop my professional network, a major asset on the road to employment.
I am currently working in the industry (at SANOFI, as New Product Manager Asia). I measure the adequacy between the skills required in the private sector and the REI-InnocDov label experience, since I was able to value it during recruitment interviews.
Sandy Favini [PhD and InnovDocteure since June 2013]
---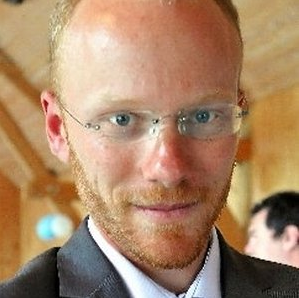 At the end of my doctorate, I found a job as Project Manager on permanent contracts in Grenoble, within Bassetti (a software publisher for technical data management), a company with 100 employees.
The recruitment was sealed during a single interview with the CEO. Neither of us expected recruitment to go so fast. For my part, I was seduced by the "project management" and "customer relations" aspects, the technique, as well as the adventure of international development motivated me a lot.
My doctorate and the skills developed during the InnovDoc experience have really allowed me to stand out.
Thanks to InnovDoc, I had the opportunity to follow training courses on the sales, customer relations and project management professions, which helped me to overcome the stereotypes I had about the technical sales profession. I was released from these fears and took up this new profession head-on, even though it took me away from the practice of research or my areas of expertise.
The REI label prepares and tools for this type of opportunity. It allows you to discover an entire business landscape: from SMEs to large international groups.
More information about ABG?
Get ABG's monthly newsletters including news, job offers, grants & fellowships and a selection of relevant events…
They trusted us