07/10/2010
The videoconference job interview: the Devil is in the details!
The Covid-19 pandemic will not necessarily create a new world. However, it will most certainly provoke systemic changes in work organisation and managerial practices. One immediately thinks of the attitude of managers towards the telework of their employees, or the relevance of the open space, but recruitment practices will also change.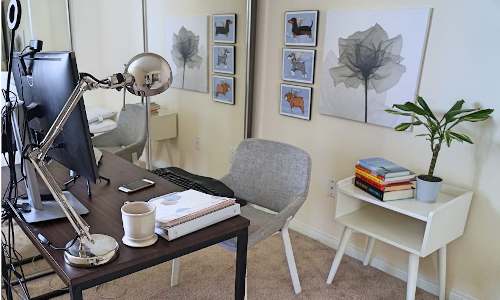 by Vincent Mignotte, Executive Director of ABG - 5 April 2020
Until six months ago, recruiting a person through videoconferencing alone might have seemed risky, or at least baroque. While some public laboratories were already routinely recruiting PhD students and post-docs via videoconferencing, companies were often more cautious, in order to properly assess the soft skills and adaptability of candidates. A first telephone interview was aimed at verifying major points of the candidate's suitability for the position (diplomas, experience, salary expectations, etc.). Then a video interview could be proposed to candidates located in another country or region. But in the end, as a consultant friend told me, "no one has ever been recruited without meeting their future boss" and the short-listed candidates were generally invited to the company's premises1.
With the lockdown, then the continuation of teleworking for several months, there is no other solution than to recruit entirely remotely. The risk of a recruitment error may be slightly increased, but the benefits in terms of time and travel are real. The practice may even test candidates on their ability to telework, so it is likely to become established.
Therefore, it is important for candidates to anticipate job interviews via videoconferencing. Many tips can already be found on the internet and I will focus on a few key points which, as is often the case, are common sense.
The fundamentals are still valid
As with a face-to-face interview, you need to prepare yourself. Being familiar with the content of the position on offer, having gathered as much information as possible about the company, the recruiting department, the sector of activity... all this remains essential. You must also be prepared to talk about yourself, to illustrate your skills with real-life experiences2, and to relate these to the profile that the company is looking for.
You must also take care of your level of language, make short sentences, be concrete, and remain positive in all circumstances3. Don't forget that a job interview is a high-stakes situation, for both you and the recruiter.
The pitfalls of a videoconference interview
Believe me, sharing a lunch with a professional recruiter is always a good time, because they never fail to tell you a few juicy anecdotes. Long-distance interviews are sure to provide new gems to the profession. Therefore, make sure you are not remembered for the wrong reasons.
The first trap: you don't go to the recruiter's office, you invite them into your home

Since the recruiter's objective is to understand who you are, no detail about your computer skills, your appearance or your environment will escape him. Therefore:
Learn how to use the videoconferencing platform that will be used for the interview (Zoom, Skype, Teams, GoToMeeting, WebEx, Tixeo have all their particularities);




Check the image and sound quality in advance;




Choose a place in your home where you will have peace and quiet and where the noises of everyday life will be muted;




Make your phone silent, turn off all notifications, close the various open windows on your computer;




Check the camera's field of view and carefully eliminate any clutter in the background;




Remember to keep a few notes in front of you, including the job description, as well as a notebook, a pen and a glass of water;



Dress and do your hair as if you were going to an important appointment; don't hesitate to wear a corporate outfit (a white shirt, a tie and a dark jacket, and even trousers and matching shoes, for men, or a blouse, a suit, a skirt and matching shoes, for women)4: this will show your respect for the recruiter and help you focus fully on your interview.
The second trap: comparison
Even if you've locked yourself in a quiet room, look good, and your equipment is working, your video may look disappointing. If you've put your laptop in front of you on a table, the screen is probably tilted, so you'll appear in close-up with your head tilted forward. Behind you, the walls converge on a ceiling that looks ordinary. Perhaps one can see a Henri II buffet decorated with a row of plates. Or you have your back to a window and become a shadow puppet. All these details show that you are not in a professional context; they will leave a negative impression on the recruiter, even if he is not aware of it.
So, take inspiration from experienced Youtubers and work on your staging. If you can afford it, get a quality webcam. If not, clean your computer's webcam carefully. Place the camera horizontally, at eye level: to achieve this, just put your laptop on a shoe box. Move the camera away from you, so that your portrait is more flattering. Test the sound of your computer and that oh headphones with a microphone, then decide on the best solution.
Prepare your background like a studio: some beautiful objects, calm solid colours, a white wall. Don't play around with Zoom's virtual backgrounds or stand in front of a naked, anonymous wall.
Make sure that you are well lit, with no dominant colours and no unsightly shadows.
The Third trap: weak signals
It is commonly accepted that body language plays a major role in communication between two people. Professional recruiters are well aware of this, observing any change in attitude after asking a question, and any inconsistency between a candidate's gestures and words. Your disembodied image on the recruiter's screen provides him with only some of the information he used to collect. If your hands are never visible, you look like a Playmobil character. If they are visible, they are in close-up in front of you: avoid staying still, or conversely, make large and disorderly gestures. Keep an open attitude, remember to smile, and regularly nod to confirm that you have understood the person you are talking to.
Overall, an hour of videoconferencing is much more tiring than an hour of face-to-face meeting5. This is due, on the one hand, to the fixation of attention on a piece of screen and, on the other hand, to the difficulty of creating a human relationship and closeness, starting with eye contact. By looking at your screen, you are not looking at the camera and therefore not at your partner's eyes (another reason to move your laptop away from you, it will feel less so). Finally, it is more difficult for each of the interlocutors to perceive weak signals from the other (interest, boredom, perplexity...) and therefore to react quickly. It is even quite easy to misunderstand the state of mind of the other person.
The fourth trap: the unexpected

Despite all your precautions, the unexpected, by definition, cannot be excluded. Loss or degradation of sound, loss of image, intrusion of a third party into your sanctuary6... In all cases, remain professional: stay calm, react quickly (for example by calling back by phone if the connection is interrupted), and do not lose your smile. This will convince the recruiter that you know how to handle a stressful situation elegantly.
In conclusion, companies are likely to resort more and more frequently to remote recruitment interviews. To give the best of yourself, prepare yourself specifically for this exercise because, as is often the case, "the Devil is in the details"!
---
More information about ABG?
Get ABG's monthly newsletters including news, job offers, grants & fellowships and a selection of relevant events…
They trusted us