Forums BIOTechno editions 2020
TheForums BIOTechno are unique meeting days that bring together students, doctoral students, young researchers and companies every year. The main objective is to facilitate the creation of a strong network in the biotechnology sector and thus consolidate the bridges between the academic and private sectors.
This year, the Grand-Est edition will tale place from June 2nd to 12th as an e-forum and the Paris edition is postponed to October 5th 2020.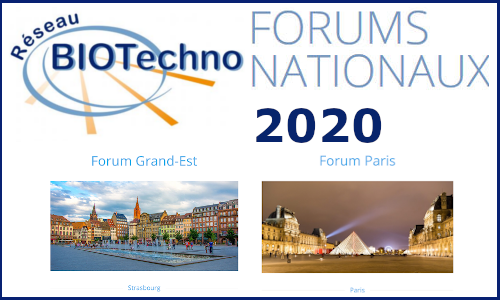 ---
Édition Grand-Est, e-forum du 2 au 12 juin
Édition Paris le 5 octobre 2020
---
Depuis plus de 20 ans, le Réseau BIOTechno aide et accompagne les doctorants et jeunes chercheurs à réaliser leur insertion professionnelle dans le monde privé.
Venez à la rencontre de l'équipe organisatrice et de leurs partenaires. L'occasion de vous faire connaitre et de développer votre réseau. Pensez networking et affinez votre connaissance des métiers des biotechnologies en participant à diverses animations :
ateliers ;
correction de CV ;
simulation d'entretien d'embauche ;
photographie professionnelle pour CV/profil en ligne.
Pensez professionnel et assistez à :
des conférences plénières ;
de multiples tables rondes afin d'échanger en compagnie d'intervenants issus d'horizons variés.
Date et horaires
Le Forum BIOTechno Grand-Est (Strasbourg) 2019 aura lieu le du 2 au 12 juin 2020.
Lieu
Mini-site dédié à l'Edition 2020 du e forum BioTechno
Infos et Inscription
Plus d'infos sur l'édition Strasbourg Grand-Est 2020 sur le site du Forum BioTechno
Date et horaires
Le Forum BIOTechno Paris 2019 aura lieu le 5 octobre 2020 de 8h45 à 20h30.
Lieu
327, Rue de Charenton, 75012 Paris
Infos et Inscription
Plus d'infos sur l'étdition Paris 2020 sur le site du Forum BIOTechno
[INSCRIPTIONS OUVERTES PROCHAINEMENT]
à Paris, retrouvez tout au long de la journée l'ABG sur son stand avec :

- des conseils, ressources et toute son expertise sur l'emploi des docteurs en biologie et disciplines connexes ;

- une sélection d'offres d'emploi pour docteurs orientée vers les métiers de la biologie et des biotechnologies !