Laurence Friteau joins ABG as head of the Corporate Relations, Partnerships and Recruitment department
Our team is happy to welcome Mrs Laurence Friteau as head of the Corporate Relations, Partnerships, and Recruitment department. Laurence replaces Michèle Ansola, well known to our clients, who has widely contributed to the development of ABG, and has recently retired.
Get to know more about her career path, her commitments and her projects through this biographical article.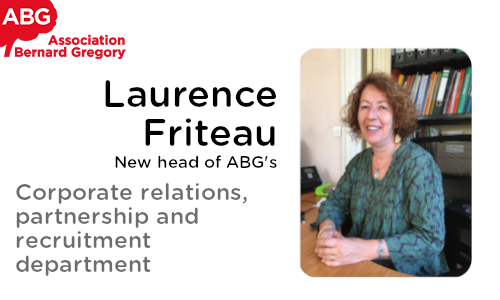 Laurence holds a PhD in molecular and cellular pharmacology from Paris 6 University (formerly UPMC), obtained at Inserm, that allowed her to pursue a career in the pharmaceutical and cosmetic industry. Between 1987 and 1998, she held several R&D positions in project management as well as team management, in public and private environments. She notably worked for the group Johnson & Johnson, before moving towards the recruitment of scientific profiles (bac +2 to bac +8) by developing the Kelly Scientifique division, an entity meant to assist companies of the Life Sciences sector (life sciences, health, nutrition...) in the recruitment of their future talents.
Sensitive to doctoral skills and convinced of their value in the private sector, she developed at Kelly Scientifique the recruitment of doctoral profiles, which at the time represented an expanding niche in the job market.
Meanwhile, Laurence remains an active member of the UPMC doctors' association, in which she actively participates in promoting the employability of PhDs to companies through the co-writing of a White paper on doctoral skills [available in french only] , and the organization of events focused on the acculturation of companies to the doctorate.
For several years now, she has also been involved, via the UPMC Doctoral Training Institute, in the training of doctoral students or Master and BTS/DUT students from various schools and universities to deliver her field perception of the job market and the expectations of recruiters.
Today, Laurence joins ABG as head of the Corporate Relations, Partnerships and Recruitment department, where one of her main objectives will be to position the ABG as a key actor of the PhDs job marcket by developing the recruitment activity.
More information about ABG?
Get ABG's monthly newsletters including news, job offers, grants & fellowships and a selection of relevant events…
They trusted us