10/12/2020
The winner list of ABG Professional Pitch Contest 2020
The ABG Professional Pitch Contest finale #CPP20 was held at the PhDTalent Career Fair 2020 and was 100% digital. The contest saw 10 PhD candidates and PhD holders competing for the best pitch in only 2 minutes, with a jury of 7 executives and business leaders.
Discover the list of winners of this edition, as well as the replay of the finale !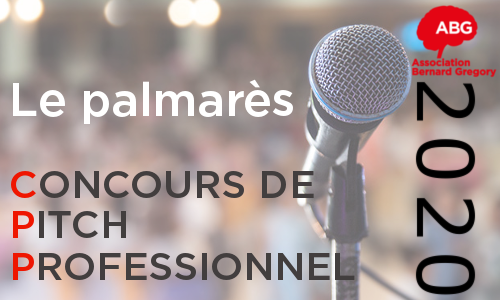 ---
The professional jury of this 7th edition
---
Two minutes to convince
The Bernard Gregory Association, in partnership with PhDTalent, CASDEN Banque Populaire and RNCD, presented the 7th edition of its professional pitch contest, on November 19, 2020 during the 100% digital PhDTalent Career Fair.
The principle of this competition entirely dedicated to PhD candidates & PhD holders is to convince the jury and the public in 120 seconds, by exposing their research experience and their professional project in a clear, concise, and convincing way.
7th edition of the ABG Professional Pitch contest / rules / prize and information
The professional jury of this 7th edition
Amélie BIGORGNE
[Chargée de recherche Inserm et Co-fondatrice de COOPETIC Recherche ]
Laurent BILLET
[Délégué scientifique chez EDF R&D]
Nicolas COCHARD
[Responsable R&D au sein du groupe Kardham]
Antoine DA COSTA,
[Président de Lab'Science]
Agnès LAINÉ, PhD
[Responsable Projet Recrutement TALENTS chez Agence Choose Paris Region]
Lise LAUMONIER
[Présidente Fondatrice de BIOSPACE LAB et Business Development Manager pour les Ateliers LAUMONIER]
Philippe MICLOT
[Délégué Général CASDEN Banque Populaire Partenariats et relations institutionnels]
The 2020 winners
In order to succeed, the winners of this 7th edition had to convince the jury by the clarity of their path and their project, as well as by their natural attitude and passion :
1st Jury Prize: Solène LE BARS
2nd Jury Prize: Mélissa VINCENT
3rd Jury Prize: Quentin LEMARIÉ
Audience Award: Marie-Charlotte Morin
Watch the final in replay available on our Youtube channel.
More information about ABG?
Get ABG's monthly newsletters including news, job offers, grants & fellowships and a selection of relevant events…
They trusted us