Apply to the Theses program - edition 2021 launched by ADEME, French Environment and Energy Management Agency
Are you passionate about ecological transition, and interested in doing your PhD at ADEME? Then the 2021 call for applications for its Theses program might be for you (students from humanities and social sciences are welcome) !
Check out the terms and conditions of eligibility, and apply before March 31, 2021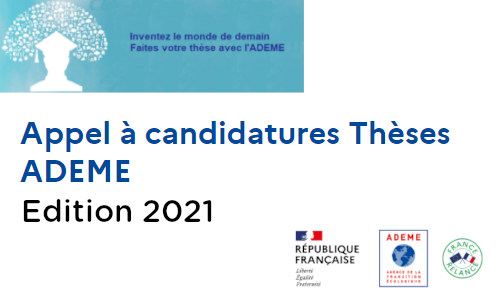 ---
The thesis program - edition 2021
Practical information and contacts
ADEME (French Environment and Energy Management Agency) is a public establishment of an industrial and commercial nature that participates in the implementation of public policies in the fields of the environment, energy and sustainable development. The research actions supported by the Agency aim in particular :
to build responses to societal expectations and to provide support to public authorities and to build policies contributing to sustainable development adapted to these expectations;
to support the emergence and implementation of a national offer of technologies and services responding to environmental and energy issues in a context of climate change.
THE PROGRAM
The Theses program is one of the intervention tools for implementing ADEME's research strategy, which aims to encourage research that supports the energy and ecological transition in a context of climate change to prepare and support the Agency's operational actions.
Thus, since 1992, more than 1,800 students have benefited from this training program and pursued their career path in public institutions, companies, service professions, or have even set up their own businesses. Every year, ADEME selects around 50 new PhD students.
TERMS AND CONDITIONS AND THEMES
The expected thesis projects must involve a candidate, a host laboratory, a thesis director and a co-financing partner (public or private): the amount of ADEME co-financing being up to 50% of the PhD candidate remuneration. ADEME is the PhD candidate's employer.
Exceptionally, applications may be 100% financed by ADEME (in particular work in the human and social sciences).
The ADEME supports thesis projects on the following themes:
Sustainable cities and territories ;
Circular economy ;
Sustainable energy;
Forestry, agriculture and bioeconomy;
Pollution (indoor and outdoor air, polluted sites) and its impacts;
Energy, resources, environment and society.
The deadline for applications is
5:00 p.m. on March 31, 2021.
Notice: This program is not intended to finance thesis work in fundamental research.
THE APPLICANT :
must hold or be in the process of obtaining a Master's degree or diploma allowing registration in a Doctoral School on October 1st, 2021;
must have a good level of education and adapted to the subject;
must not engage in other professional activities;
must have good French language skills;
has the possibility start this thesis program at the earliest on October 1st, 2021;
agrees to be a fulltime employee at ADEME for the whole duration of the thesis.
THE LABORATORY(IES) :
must be attached to a French public research institution (research organizations, universities...) ;
make available sufficient means of supervision for the PhD student.
THE COFINANCER
cofinancing may be provided by one or more organizations;
any structure (French or foreign) with a legal personality can be a cofinancer;
the provided cofinancing will be 50% of the estimated amount;
Notice: in the case of co-financing by a Regional Council, you must check the admissibility of the project, the timetable and the methods of submission to the Regional Council.
Call for Application Theses 2021
All documents related to the 2021 call for applications
CONTACTS
The Thesis Unit of ADEME is at your disposal to answer all your questions by phone. :
Valérie PINEAU [02 41 20 41 17]
Maguy FAVRELIERE [02 41 20 41 47]
More information about ABG?
Get ABG's monthly newsletters including news, job offers, grants & fellowships and a selection of relevant events…
They trusted us