Itane Lacrampe Camus, PhD in Social Geography, and entrepreneur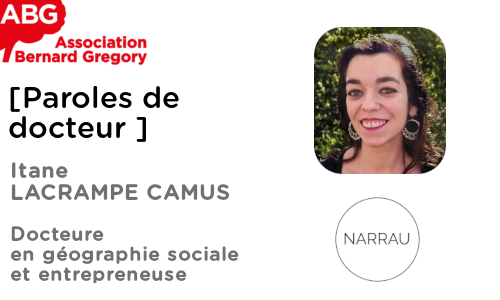 Author : Itane Lacrampe - Camus
---
NARRAU : le trait d'union entre recherche et entreprenariat
---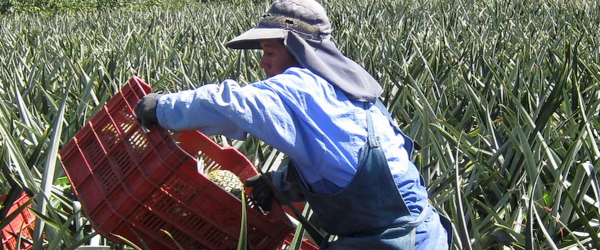 My name is Itane Lacrampe-Camus, and I have a PhD in geography and spatial planning. Following my thesis defense, my colleague and friend and I decided to develop our project called NARRAU (from the Latin narro which means to tell), specialized in research-action in humanities and social sciences. Our main objective is to show the social realities of certain populations, with the rigor of a scientific approach, and enhancing these through using new technologies.
Every day, we build NARRAU as an entity that makes the link between the different actors of society and territories: researchers, associations and NGOs, companies, local authorities. To do this, we use the results of research in Human and Social Sciences to look at ways in which to act. We position ourselves as "researchers in society" who cultivate this link between reflexivity and action. Our missions can be summed up in four key words: research, narration, accompaniment, and training.
We conduct research projects with a participatory and ethical dimension to bring together this diversity of actors and to develop innovative projects that are beneficial to all. We promote the results of scientific research, particularly those of young researchers, to make them accessible to all, especially to those working in the field to bring about changes in the service of social justice and environmental protection. We support associations and NGOs, through professional training, so that they can strengthen their expertise with their target audiences. Finally, we pass on our knowledge and experience to higher education students, convinced that they are the actors of today and tomorrow and that they will respond to the socio-economic and environmental challenges of our world.
What are your daily activities and responsibilities?
There are two of us in this NARRAU adventure, Anaïs Trousselle and I, and to develop our activity as effectively as possible, we both try to be versatile. However, we have divided certain tasks between us. I am in charge of the communication part of NARRAU, and Anaïs, the one who originally had the idea of the NARRAU project and without whom nothing would be possible, is responsible for the project's overall strategy. She also takes care of most of the (heavy!) administrative tasks.
At the beginning of 2021, our time is mainly divided between:
the realization of our research project "Immersion in support structures for migrant populations in France: migrants, volunteers and professionals facing SARSCoV-2" (IMPCoV), participatory and multi-actor, financed by the MSH South of Montpellier and the Red Cross Foundation, and on which we work with the UMR ART-Dev (University Paul-Valéry Montpellier III);
conducting courses for universities and schools;
the launch of our training programme for professionals;
and applications to calls for projects to which we sometimes respond with young PhDs.
Your LinkedIn profile introduces you as a "specialist in social geography and qualitative research" and as "specialized in field data collection, valorization and diffusion of humanities and social science research". Can you explain?
As a geographer, I am specialized in social geography and migration geography. In my research, I favor a qualitative methodology, notably by carrying out field observations and individual and collective interviews. This perspective leads me to set up, as far as possible, long, and immersive fieldwork alongside the populations I work with.
My experiences in conducting research allow me to put forward a solid competence in data collection in the field. In addition, within NARRAU, besides analyzing data for scientific purposes, we seek to valorize these data and make them available to a wide audience. We work to transmit scientific knowledge and data collected through alternative media, such as computer graphics, interactive maps, or videos. We define ourselves as "hybrid researchers", who produce knowledge, and who seek the best way to apply this knowledge to the realities and needs of the actors on the field.
You are also "specialized in the analysis of social networks and their users' practices". This is extremely relevant expertise. Can you tell us more about it?
I developed expertise in the analysis of digital social networks (particularly Facebook and WhatsApp) during my PhD. In my thesis, I studied the migration of young people of Latin American origin between Spain and London (a migratory phenomenon carried out by new European citizens and that participates in the complexification of the migratory panorama in Europe). When I arrived in London, thanks to various contacts, I was quickly added to private discussion groups between migrants on WhatsApp and Facebook. I had access to all the messages and content exchanged between the users of the platforms. It was a real gold mine for research, but of course it raises several ethical questions (we cannot assume that once the information is online, the Internet user considers it as belonging to the public domain).
The scientific deontology led me to introduce myself to the administrators of the groups to get their agreement to post messages explaining my research; meet volunteers to carry out individual interviews; study and analyze the information exchanged. My request was received positively in most cases.
From there, I collected information on a WhatsApp group and a Facebook group daily for a year. In other words, I annotated all the messages and analyzed the content (images, videos, articles) exchanged on these groups. I created a database before classifying and analyzing the data in a systematized way to derive indicators, in my case, on the living and working conditions of Latin American migrants in London. This experience of digital data analysis allowed me to discover several issues around digital ethnography, and to shed new light on current migration dynamics from a "digital field". This fascinating field of research offers us several tools to apprehend different social phenomena, and to understand how certain practices are transformed, such as the uses of public space, the connections between individuals, the ways to access employment, housing, or how discriminations and exploitations are perpetuated in societies governed by the digital. This type of research allows us to go beyond the simple dichotomy between online and offline, and to reflect instead on how the Internet and NICTs (new information and communication technologies) are integrated into and shape our daily lives.
Tell us about what you like and dislike about your activity?
The NARRAU adventure allows us to get involved daily and to take a stand on issues that are important to us. This is what makes us happy and proud.
In concrete terms, this project allows us to vary our activities, to be constantly intellectually stimulated, to discover and to be in contact with different professional worlds, which is very appreciable and formative. This implies a capacity to adapt, to use the appropriate language with each interlocutor, and to juggle the temporalities of each one. These realities are the basis of our daily challenges and forge from day to day our added value which makes NARRAU unique.
What does the PhD experience bring to your non-research responsibilities?
The PhD experience allows you to hone many essential skills that are sought after in many professional fields: autonomy in work, organization, time, and stress management! PhD work is a very solitary activity, which teaches us to face many challenges alone and to multitask. It is an experience that trains you to be an entrepreneur, despite the preconceived ideas that categorize the PhD as an academic activity pushed to its limits. An entrepreneur must carry out different activities at the same time, not counting hours, which is common when writing a PhD thesis. Moreover, conducting research work allows us to put forward a solid capacity for analysis, reflection, and synthesis. We can take the necessary distance on a given situation and problem, and to propose to our collaborators and clients new tracks and solutions adapted to their reality.

What was your path to the Master 2?
As soon as I obtained my baccalaureate (option L), I decided to study geography. I was motivated by the variety of professional perspectives in fields such as environmental protection, urban planning, land use planning, or cartography. During my studies, I had the chance to discover the discipline through different schools of thought. I took courses in several universities in France, and in Spain during my Erasmus. After a bachelor's degree in geography and regional planning, I enrolled in a master's degree in geography, specializing in globalization and development at the University of Aix-Marseille, where I wrote two research papers at the crossroads of social geography and migration geography.
How did your PhD research project come about?
It was during my Master 2 and my second research thesis that the desire to pursue the research activity in PhD program gradually emerged. I discovered fields of research that fascinated me, and I wanted to be intellectually stimulated. My master's supervisor supported me enormously in this process and pushed me to give the best of myself. After my Master 2, I worked for a year (as a private teacher and educational assistant) and built my PhD project.
I applied for a PhD contract at the University Paul-Valéry Montpellier III (after having been refused at the University of Aix-Marseille) which I obtained. I was thus able to benefit from funding for 3 years, and I then took an additional year to finish the writing of my thesis while benefiting from unemployment subsidies. This situation at the end of the thesis is unfortunately "classic" for many PhD candidates, though it does not help the person to think calmly about his / her post-thesis career. Most quality theses in SHS are completed in more than 3 years, which leads us to reflect on the duration of the funding allocated to complete a PhD. In this sense, the thesis experience confronts doctoral students with a number of "abnormal" situations that generate suffering. I advise you to listen to the podcast Thésard-es which has the audacity to reveal all these invisible realities.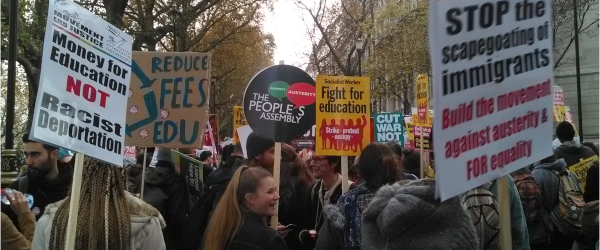 More concretely, how did you manage your time during your PhD?
Lors de la première année de doctorat, j'ai effectué un long travail bibliographique et de cadrage du projet de recherche, et également deux missions courtes de terrain exploratoires (à Madrid) afin d'affiner mes questions de recherche et de préparer les missions longues de terrain. Cette première année a été également l'occasion d'organiser un premier séminaire scientifique et de découvrir le monde de la recherche et le fonctionnement de mon laboratoire dans lequel je me suis particulièrement investie. J'ai été représentante des doctorant.e.s, membre élue au sein du conseil de laboratoire, responsabilité grâce à laquelle j'ai organisé des doctoriales et des ateliers à destination des doctorant.e.s. J'ai consacré ma deuxième année à la collecte de données sur le terrain, à Madrid, à Londres, et sur les réseaux sociaux numériques. À partir de la troisième année, et après avoir débuté l'analyse de données, j'ai pu commencer la rédaction d'articles scientifiques. Peu à peu, le travail est devenu de plus en plus solitaire, et j'ai consacré l'entièreté de la quatrième et dernière année à la rédaction.
First of all, what is NARRAU?
NARRAU was born of a threefold desire. Firstly, to continue to do research outside of academia. Secondly, to continue to carry out real investigations in the field, our leitmotiv within NARRAU. Finally, we wish to bring scientific knowledge out of an academic universe that is sometimes too compartmentalized. While wanting to shake up the ways of carrying out research, we wish to put forward works of first-rate scientific rigor, and which give a voice to those who are often invisible in our societies.
Is the NARRAU project a direct and natural extension of your research work?
I met Anaïs on my first day at the UMR ART-Dev where we did our theses. She introduced me to the unit and supported me in my first steps as a PhD candidate. Quickly, we developed a strong friendship which is still growing. We learned to work together, by organizing seminars, and by being both elected members of the laboratory council. Above all, we found each other based on common values, and a desire to project ourselves differently in the post-doctoral period, other than by following the paths set out by the academic world, which unfortunately, are increasingly difficult to follow for young PhDs, whatever the quality of their research work.
The NARRAU project was built from the limits observed in the research world. This world produces results of a great richness and of high quality, but which are unfortunately hardly valued, or sometimes not at all. They are not accessible to all, insufficiently mediatized, or published in formats that are not easily digestible for the public. Moreover, the academic world functions based on professional hierarchies that are often unfavorable to PhD candidates and young doctorates, whereas their energy and creativity are real assets in this professional world that does not know how to value them. With NARRAU, we wanted to get out of this professional reality and to value the young PhDs through our collaborations. This approach allowed us to reconnect with the world of research, with whom we work daily, under a fair power relationship and based on healthy and trusting links. This aspect was essential for us and we are proud of it today.
Anaïs defended her thesis a few months before me and had been working on the NARRAU project for a long time. After my defense, she proposed me to join her in this adventure, and it was quite naturally that I accepted. What could be better than to embark on such an intellectual and professional expedition alongside a trusted friend?
If the entrepreneurial path is more and more visible and accessible for PhDs in the natural sciences, it is a priori less the case for the humanities and social sciences. How did you come to NARRAU?
It is indeed less the case for the humanities and social sciences, and we realized this during our creation year. Before finishing her thesis, Anaïs was able to follow the PEPITE program and the Activ'Créa program of Pôle Emploi, which allowed her to consolidate and reinforce her knowledge, and to provide her with many tools to better create a company. During these first training programmes, she understood the need to be accompanied in her project to ensure its sustainability. However, the existing systems require a strong investment in time whereas most of the French entrepreneurs are small structures where the project leaders are already very solicited. Moreover, in our case, we realized the inadequacy that could exist between the tools proposed by the coaches and the projects and jobs of tomorrow, like what we do within NARRAU, turned towards transversality and horizontal functioning.
Fortunately, we used our network and went to meet people who had set up similar projects. Anaïs was able to talk with structures like ours. We chose people with a common experience of entrepreneurship. Networking, and especially not being afraid to knock on doors to ask for advice, was essential for the development of NARRAU during the first months, to meet "mentors" who understood our project and were willing to help us.
Your "companion in arms" Anaïs Trousselle is presented as an "agro-development engineer", in addition to her PhD in geography. Tell us about the place of interdisciplinarity within NARRAU?
Indeed, Anaïs is an engineer in agro-development and has a PhD in social geography, which gives her a very operational dimension. NARRAU was born of the intersection of practical and research dimensions, and of the will to articulate these worlds. It is in this sense that we position ourselves as "link makers". Being open to the diversity of points of view and ways of doing things is the basis of the position we defend to respond to contemporary issues and challenges. Therefore, we are increasingly cultivating interdisciplinarity in our work, and this is why we have set up a scientific committee following this logic. It brings together several disciplines and themes, young creative doctorates, and experienced researchers. Although they have different backgrounds, they all defend practicing in the field and conducting research on contemporary social issues.

What new skills have you gained by developing NARRAU?
NARRAU is a great source of professional and personal development. We were able to cement the skills we developed during our PhDs. This aspect is more satisfying after having been immersed in an academic world that requires us not to have multiple specialties. Today, migratory phenomena are our specialty, but we have broadened this to include social and spatial marginalities. We have also positioned ourselves in the field of environment-society interactions, a theme that we have been passionate about for many years, and which is one of the main threads of our academic careers, particularly in geography. Finally, we are able to develop innovative methodological protocols, and to be able to train in new techniques, in audiovisual techniques for example, on which I particularly wish to perfect myself. In a way, NARRAU is our field of possibilities.
Of course, NARRAU was also born of Anaïs' desire to experiment with entrepreneurship. The entrepreneurial adventure allows us to take on new challenges every day, and above all, to make progress and achieve concrete victories. We have adapted it to our philosophy, which is to privilege quality over quantity. We find satisfaction in the rigor and application that we invest in carrying out our activities. It is on these bases that we have built our economic model, integrating the social and environmental values of NARRAU alongside economic value.
You defended your thesis on March 4, 2020... What are your perspectives?
One year after our defenses, we have accomplished a lot. We are proud to have obtained our first funding to conduct a research project in Montpellier. The IMPCoV project "Immersion in support structures for migrant populations in France: migrants, volunteers and professionals facing SARS-CoV-2" is supported by the Maison des Sciences de l'Homme SUD (MSH SUD) and by the Red Cross Foundation. In this framework, we will work with the Montpellier Red Cross and the RESF34 association: two structures that accompany migrants in the Montpellier area. This project is a concrete example of what we try to achieve within NARRAU. It allows us to make the link between different actors in a territory, and to carry out real participative research. Beyond the realization of observations and interviews, with the migrant population and the employees and volunteers who accompany them, we intend to have the respondents actively participate in the production of research data. In this sense, we will notably involve the audiovisual pole of the MSH Sud to collect sound and visual materials, which will allow us, in addition to supporting the analysis of the data, to set up participative workshops with the interviewees to create a space for dialogue and debate.
At the same time, the first year of NARRAU's existence has allowed us to fortify a solid network of professionals. We have built various partnerships to carry out collaborative contracts. We have responded to several calls for proposals, obtained several teaching contracts, promoted our thesis work on our website, and above all, we have consolidated our general strategy, our targets, and our objectives. Our short-term perspectives are therefore mainly to continue to secure the financial dimension of NARRAU and to pursue the development of our offer.
How is the current Covid 19 pandemic affecting your work?
NARRAU was born with this pandemic. It brought forward Anaïs' return from Central America where she had just started a first participatory research project for NARRAU in Nicaragua and, at the same time, it led us to fully launch the project in France at the end of March 2020. It is at this point that we acted on our collaboration and decided to invest ourselves 100% in the development of NARRAU. Let's say that this pandemic reconfigured the launch of NARRAU.
The health crisis has made fieldwork more complex, with health, administrative, and legal protocols more difficult to conduct, but it has been necessary to protect our partners and ourselves, and especially the marginalized populations we work with.
I also think that this affects our prospecting with private actors. We perceive that the health crisis has led them to reduce the budget dedicated to conducting studies. The budget allocated to SHS research is also reduced, but this seems to me to be more the result of a structural crisis in the research world than the result of the covid-19 crisis.
At the same time, some research and associative actors have understood the need to document the social realities experienced by vulnerable populations during this crisis, and private and public actors have become aware of the real environmental challenges we face. Our discourse and our offer are better understood by some and this is encouraging for the future.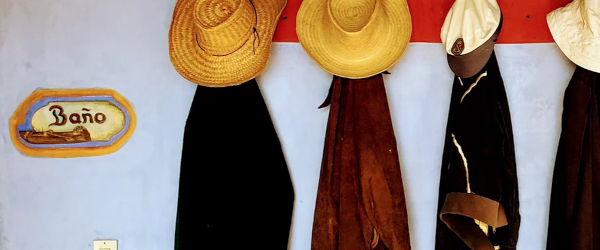 A FINAL SET OF TIPS FOR DOCTORAL STUDENTS AND PHDS
I encourage all doctoral students and young doctorates to:
take advantage of all the skills acquired during the thesis, regardless of the discipline.The world of research creates ultra-specialized people, who, once they leave their research fields, have the impression that they do not know anything else. This is a false vision and far from reality.

We need to be more inspired by other countries where a PhD is much more valued than in France. The thesis is a complete exercise and enriches us with multiple skills that can be used in many professional fields.

We must not hesitate to put ourselves forward and dare to experiment, to leave our comfort zone and the academic world.
THE FINAL WORD?
A PhD in Human and Social Sciences and entrepreneurship is a winning combination that ensures quality and creativity to meet the challenges of today's and tomorrow's society. It is time for our society to value these quality profiles!
So, I invite you to visit our webpage narrau.com and to follow us on LinkedIn. If you are interested in our activities, contact us!
More information about ABG?
Get ABG's monthly newsletters including news, job offers, grants & fellowships and a selection of relevant events…
They trusted us