The ABG team sends you its best wishes for 2022, along with a word from the director, Vincent Mignotte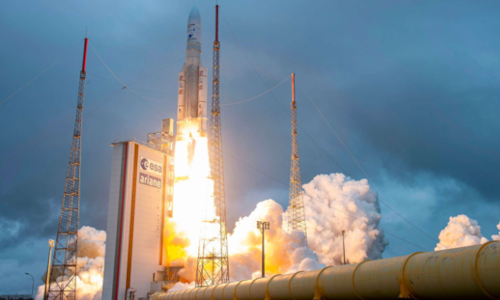 Crédit photo : ESA-CNES-Arianespace / J.M. Guillon
2021 has brought its share of surprises. Some bad, with the Sars-CoV2 variants and the human damage they have caused, some good, with the rapid deployment of vaccines and the revival of economic activity and employment. The alternating moments of hope and disappointment, the constant questioning of what we thought we had understood about the pandemic, have had a strong impact on our minds, and have reminded us that life is fragile.
In the face of this crisis, humanity is showing all its complexity, its strengths and weaknesses: solidarity or individualism, pragmatism or dogmatism, tolerance or intolerance of uncertainty, trust or distrust of science, optimism or anxiety, rationality or belief...
Without daring to speculate on what 2022 would bring, we had already written off 2021. The words "virus", "pandemic", "emergency ward", "3rd dose", "antivaxxers" saturated the airwaves ad nauseam, while the climate crisis waited for its time. But Christmas Day still had a surprise in store for us, one of those that give us hope, that make us believe again in the beauty of the human adventure. Ariane 5 took off carrying its precious cargo, the James Webb telescope. And from Kourou, unexpected words resounded: "The flight is calm", "the parameters are normal", "the trajectory is nominal".
This is actually what I want to wish for you, your loved ones and all your projects in 2022: that your dreams come true and that your plans run smoothly. The entire ABG team joins me in wishing you a very happy new year, and is ready to accompany you on your way.
Vincent Mignotte
Executive Director, ABG
More information about ABG?
Get ABG's monthly newsletters including news, job offers, grants & fellowships and a selection of relevant events…
They trusted us