ABG is taking part in the Forum Labo 2022 [Lyon] on 19th and 20th September 2022. Register now!
ABG will take part in the Forum Labo 2022 [Lyon]. Meet us on 19th and 20th September 2022 in Lyon (Centre des Congrès), as well as the numerous companies present.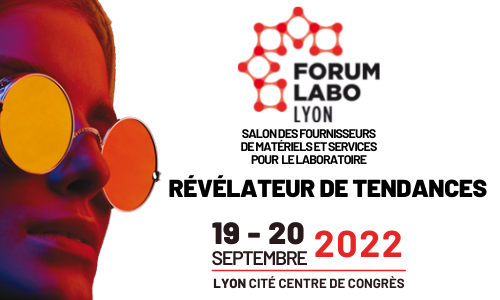 ---
The "Forum labo" and its exhibitors
---
The Forum LABO brings together different stakeholders: large, medium and small companies, startups, researchers, students, academia, as well as buyers and laboratory technicians from the public sector or the pharmaceutical, chemical, agricultural cosmetics and biotechnology industries, to shape the laboratory of tomorrow.
Discover the 5 complementary universes proposed by the forum:
Laboratory Consumables ;

Chemicals ;

Reagents ;

Equipment ;

Scientific instrumentation and Services.
This event also allows its participants to have a unique professional experience, to share their backgrounds and to acquire a better understanding of the professional challenges of today's and tomorrow's world.
Check out the list of exhibitors at the Forum Labo Lyon 2022

The Forum LABO has designed a personalised program according to your core business:
Conferences & Trainings: Forum LABO offers a unique program of conferences and workshops (general & scientific):
- Trainings,
Villages and thematic animations :
- PhD Job corner >> offered by ABG
Lab'Meetings: business meetings between project leaders and solution providers.
Discover the detailed program of the 2022 edition

ABG, a partner of the Forum Labo, will be present during the two days of the event and will offer:
What are companies' expectations and how do they select candidates? What occupations are PhD holders recruited to? How are PhDs valued in everyday life? How to enhance your PhD and soft skills?
Whether you are a PhD holder or a PhD candidate looking for new professional opportunities, come and join us to hear testimonials from PhDs recruited in different types of jobs/sectors, as well as testimonials from HR and operational staff explaining their recruitment practices and the PhD skills they are looking for.
A round table led by Dr. Laurence FRITEAU [Head of the ABG's Corporate Relations, Partnerships and Recruitment Unit @ABG],
with
- Emmanuel DAUTY [Director - Physico-Chemistry Department - ADOCIA]
Dr. Emmanuel Dauty leads the Innovation and Physical Chemistry department at Adocia, a company dedicated to protein delivery. After a PhD in bioorganic chemistry at the University of Strasbourg and a post-doc at UCSF, he joined DNA Therapeutics in 2007 as head of the Chemistry and Formulation group. In 2009, he joined Adocia as a project manager. In 2014, he became Head of the Physics-Chemistry Department and then Director in 2018. He is co-author of 8 patents and 12 scientific publications.
- Géraldine FAVRE SOULA [Director of Human Resources - ADOCIA]
She holds a Master's degree in Human Resources and has more than 25 years of professional experience in Human Resources Development in the biotech and biopharmaceutical industries. She has been working for 17 years at Adocia, an innovative biotech company based in Lyon with 115 employees, listed on the stock exchange and specialized in the development of innovative formulations of therapeutic proteins and peptides already approved for the treatment of diabetes and other metabolic diseases. She recruits highly qualified people (Adocia's researchers all have a PhD in chemistry, physical chemistry, biology-biochemistry, pharmacy...) and contributes to their development within Adocia.
- Christophe Lecante [Founder TKM-IPMetrix and IZINOV - VP Innovation Comité Richelieu]
After completing Economics and Marketing at the Sorbonne in Paris and NEOMA Business School in Reims, he began his career in 1991 in Montreal as head of strategic intelligence for Sodexo, an international service group. After managing a number of profit centres, he took over the management of Toulon Hyères airport in 1997. In 2003, he created TKM, the result of a meeting with researchers at the Université de Grenoble specialising in innovation economics. Software developer and service provider, TKM uses artificial intelligence and big data techniques, applied to the scientific literature, to facilitate decision-making in the fields of innovation and research.
- Aline Malaise [Human Resources Manager - SATT PULSALYS]
Pulsalys is the incubator and accelerator of Deep Tech Innovations in Lyon & St Etienne. After a career in recruitment and HR consulting, Aline has been working as an HR generalist for about ten years in different companies in the pharmaceutical and logistics sectors and for the last 5 years in the service of deep tech innovation and startups in Lyon and St Etienne. As such, she works to set up the management teams of startups created and incubated by PULSALYS, while helping to recruit the first employees.
- Nathalia MURILLO [Global Alliance Manager - Evotec ID Lyon]
She graduated from SupBiotech Paris with a PhD in infectious diseases from the University of Aix Marseille and an MBA in ESG strategy. Convinced that the bridge between the academic world and the private sector needs to be strengthened, she is committed to promoting the employability of PhDs as secretary of the Biotechno Network and coordinator of the BIOTechno Paris 2015 Forum. After a varied career in communication and science education, Nathalia became Alliance Manager or R&D partnership manager first at Sanofi and now at Evotec.
- Frédéric PROCHAZKA [Scientific Director of Lactips and research professor]
He holds a PhD in polymer physics and chemistry from the Universities of Le Mans and Leeds. Then, after a postdoctoral year in Minneapolis, he became a professor at the University of Saint-Etienne. Alongside his work as a professor, he founded the start-up Lactips in 2014 and is currently its scientific director.
- Gaelle RODRIGUEZ [Head of Human Ressources sites chez Evotec]
Biography to come.
A session >> "Anticipating your career pursuit"

[Tuesday 20/09, from 3:00 to 4:00 pm, Room 1]
PhD, Master's, to help you optimize your career, we will provide you with a glimpse of:
- companies' expectations,
- the importance of becoming familiar with the job market (target companies and professions), of working on your career plan and of enhancing your skills.
A personalized welcome at the PhD Job Corner [Stand GAL03], with :
- advice,
- resources as well as all our expertise on employment and career development for PhDs,
- a selection of job offers.
Date and time
The Labo Lyon 2022 Forum will be held on September 19 and 20, 2022 from 9:00 am to 6:00 pm
Access
Centre de Congrès de Lyon : 50 quai Charles de Gaulle
Entrée H - Parking Cité Internationale - P1 - P2
More information about ABG?
Get ABG's monthly newsletters including news, job offers, grants & fellowships and a selection of relevant events…
They trusted us