ABG is recruiting for the QiOVA company
As part of our recruitment support services, ABG is looking for a Junior R&D Project Manager for the QiOVA company, specialized in lasers.
Through this news, learn more about QiOVA and the expectations of their future collaborator.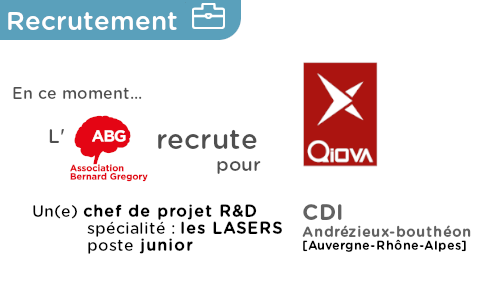 The main mission of the future collaborator will be to develop the technical knowledge of a cutting-edge laser while performing technical and scientific analysis.
WHAT IS QIOVA'S CORE BUSINESS?
QiOVA is a high-tech company, founded in 2011, that designs and develops production tools for the industry of the future.
It provides laser tools for its customers in various fields: medical, food, luxury goods...
WHAT ARE THE MAIN ATTRACTIVENESS FACTORS OF QiOVA?
A dynamic company with rapid development

The importance of developing new state-of-the-art solutions

Various areas of application

A management towards autonomy and individual responsibility
WHAT CAN YOU EXPECT FROM THIS POSITION ?
QiOVA seeks to complement its technical team with a PhD in photonics and lasers. The future collaborator should have knowledge in artificial intelligence, be creative and autonomous and enjoy the start-up environment.
He/she should also be at ease with colleagues and customers.
On a daily basis, he/she will need to be entrepreneurial in order to propose new ideas which will allow the development of the production tools of tomorrow.
More information about ABG?
Get ABG's monthly newsletters including news, job offers, grants & fellowships and a selection of relevant events…
They trusted us