Government of Ireland Postdoctoral Fellowship Program
The Government of Ireland offers post-doctoral fellowships to highly qualified researchers from all disciplines to continue their research at one of the Irish institutions. The deadline for applications is October 12, 2023.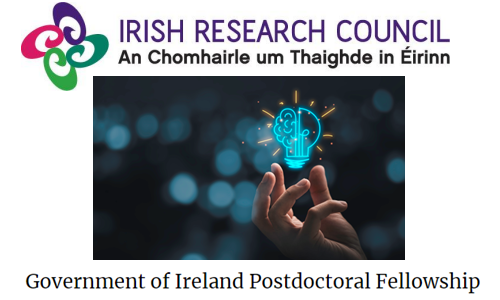 ---
The Government of Ireland Postdoctoral Fellowship Programme is an established national initiative, funded by the Department of Further and Higher Education, Research, Innovation and Science, and managed by the Irish Research Council.
The call for applications is open to

suitably qualified applicants from all over the world to pursue a postdoctoral fellowship at an eligible higher education institution in Ireland for either one or two years;
There is no age limit for applicants to be eligible;
All applicants must have been awarded their doctoral degree within the five-year period before 31 May 2024 (exception for a career break);

All scientific fields are concerned.
Pioneering proposals addressing new and emerging fields of research or those introducing creative, innovative approaches are welcomed.
Proposals of an interdisciplinary nature are also encouraged.
Each fellow will receive a salary of €42,783 in the first year of the award and €43,371 in the second year of the award;
Employer's PRSI contribution;
Eligible direct research expenses of €5,000 per annum.
The final deadline for application is October 12, 2023.
More information about ABG?
Get ABG's monthly newsletters including news, job offers, grants & fellowships and a selection of relevant events…
They trusted us