Gay-Lussac Humboldt Prize
Clarisse Faria-Fortecoëf

(Pour consulter cet article en français, cliquez ici)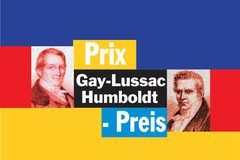 A Prize awarded by the French Ministry of National Education, Higher Education and Research (MENESR) in association with the Academy of Sciences - Institute of France to German scientists and by the Alexander von Humboldt Foundation to French scientists.
In the framework of the

Call for applications 2016

, the MENESR plans to reward two German scientists selected from among candidates nominated by French universities or organizations, laboratories and research institutions.

Applicants have to meet following conditions:

Be active in Germany;

have contributed significantly to the development of Franco-German scientific cooperation;

have promising prospects for the future of this cooperation.

Gay-Lussac Humboldt Prize amounts to

60,000 EUR

for each winner.

All scientific disciplines are covered.

The Alexander von Humboldt Foundation awards, meanwhile, the Gay-Lussac Humboldt Price to French scientists, also for an amount of 60,000 euros.

Application deadline: June 30, 2016.



> The application file on the MESR's website (in French)