Mobility Funding Guide to the United Kingdom
Clarisse Faria-Fortecoëf

A support intended for

French students and scientists

, wishing to travel to the other side of the Channel for a

training

or

research activities

.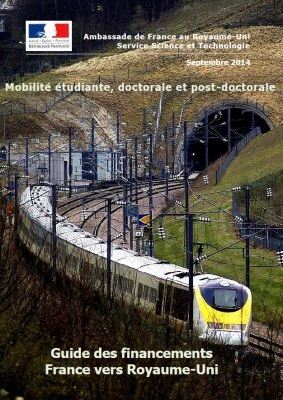 You will find in the French "Guide des financements France vers le Royaume-Uni" published by the the Science & Technology Department of the French Embassy in the UK,

a list (not exhaustive) of existing grants or scholarships

("bourses" being the selected generic term):

Mobility scholarships

for a semester or a year of study;

scholarships to pursue studies

for example in the framework of a Master;

PhD grants

;

research grants

;

grants for short stays

.
They are classified according to the nature of the structure that proposes them:

French organizations

to "go out of France": public sector, academia, associations and foundations;

British organizations

which welcome foreigners: research councils, charities, learned societies;
in the framework of

specific bilateral agreements

;

European Commission

: Horizon 2020;

international bodies

to go out of France.
For each funding scheme, the following

information

is specified:

Scholarship type;

covered scientific area;

objectives;

eligibility;

stay duration;

funding level when available;

deadlines;

useful web links and contacts for further information.